Silverman
When you listen to Silverman's "Speed Of Life Pt 2" you can't possibly imagine that this was the same Martin Williams behind Nilon Bombers classic indie single "Superstar". Yet together with vocalist Anna Dennis they have created the most beautiful heartbreaking songs known to man. If you imagine Tori Amos playing with Turin Breaks or Portishead fronting Ben & Jason it gives you but a slight indication of the how the band sound. We caught up with Martin and Anna to find out about the latest Uglyman Records success stories.
Q: Martin - Some of the old skool indie fans will remember you used be in the band Nilon Bombers. From Nilon Bombers chirpy pop to the more subdued Silverman is such a huge leap. Why the major change in direction?
Martin: In 1996 I unlearnt everything I knew. Now the song comes from within and not by using tricks of technique of reference or loose parody to simulate an original thought or emotion. Anna and I encourage each other and give each other the confidence to be ourselves.
I've stopped fighting my neurosis and go with the flow. There's much pleasure to be had from reflection. Our songs are what they are and exist because we want them to not because we think anyone else might.

Q: Anna - Silverman is your first band. Did you ever plan to be in a band or was it all about the art of songwriting until you met Martin and formed the bare bones of the band?
Anna: When I moved to Cheltenham I had no specific intention of forming a band, I was happiest writing on my own and hoped to meet some interesting musicians

Q: You list your influences as everyone from Tori Amos to Arab Strap while acknowledging that the mainstream Nu-Acoustic seen has done you no harm. How would you describe the Silverman sound?
Martin: Some one described the album as "abstract production strangled by musical simplicity", which is pretty insightful. Other words that come to mind are beautiful, reflective, spartan. Space is where it's at.

Q: Far from just being an old fashioned singer / songwriter team who play the gigging circuit a lot of your success is down to a genuine passion for the internet and technology. Tell our readers how the internet helped spread the word about Silverman?
Martin: We put some songs up at mp3.com and some other places and encouraged people to check them out. People liked what they heard and told their mates. Numbers go up and down on various stats pages and we get the impression that lots of people listen to our music. Sometime people feel compelled to write to us and share their experience of the songs which is rewarding. It's all a bit weird really, gauging whether you're that well known or not. You read these download figures from sites and all they are are numbers. Sometimes you feel a bit like your the only real person and everyone is conducting an experiment and we're the subject of it. Going to America was good, that was real and we had hangovers to prove it.
We made a little money at mp3c which helped with stuff but that's pretty much dried up now since the dotcom meltdown thing.
The real difference for us has been releasing the record in the real world. The internet can and does work well to help make people aware of us. It's a complimentary resource not an alternative path as we thought it might have been.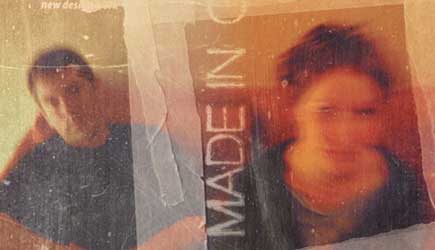 Q: The album "Speed Of Life Pt Two" is out now on Uglyman. What are the main themes that crop up in an Silverman lyric?
Martin: Inexorable change, pain, futility, anger, desire, adoration, those sorts of things

Q: When you buy the album you gain access to videos, acoustic tracks and a interview with Paul Brindley of the Sundays. How did that come about?
Martin: We did the vids at now.com which I think has gone bust. The place was like Nasa and they had a TV studio where we did some acoustic songs. Anna put in some amazing performances.
Rob Wilmot at Uglyman has an internet history and what with our net life a multimedia cd seemed like the obvious thing to do so we did it.
As regards the interview, we're good friends with Paul Brindley, he does alot of journalism these days so we asked him whether he'd like to record us talking random nonsense on his minidisc. "I don't like bananas, would you like to know why?" He kindly agreed.

Q: You're releasing the single "Don't Leave The World Without Me". Would you like to tell us a little about it?
Martin: One day we'll write songs with shorter more manageable titles. DLTWWM is an optimistic song. It's beautiful, it flies and deserves it's own dance which we're developing in the Silverman Fame school. The single version is a slightly edited version of the album version. Stevo did the artwork and the single looks as classy as it sounds. It's a limited release scheduled for release on Sept 23rd. Buy many copies.

Q: Finally when can we expect a tour and how does it differ from the recorded album?
Martin: We're in the process of putting a college tour together for late Sept/Oct/Nov. We love playing live. The more decent gigs we can get the better.
Recording and playing live are two completely different things. We record our songs first before they're rehearsed up or worked out for live then develop live interpretations of them. We try to get the best of both worlds.
*************
The "Speed Of Life Pt 2" album is out now on Uglyman
"Don't Leave The World Without Me" is out September 23rd
For More Info:
www.silvermania.co.uk
*************
**********
Post your Silverman reviews / comments on the Designer Magazine Message Board
**********