Sugababes - Manchester Apollo - 24.3.06
No sooner had the ink dried on Mutya's resignation that Amelle was handpicked to replace the sultry minx as the latest recruit in the Sugababes saga. Eagerly awaiting these three pop princesses I can't help but notice that the fluorescent glow sticks being twirled around and the bunny ears adoringly placed on the tiny tot's heads its apparently abundant that the core audience of Sugababes fans are young girls with the only adults being parents or older brothers. As a man approaching 36 I must be the oldest childless guy at the Apollo tonight. It's a far cry from their first tour which was originally sponsored by NME of all magazines.
Sugababes fourth album "Taller In More Ways" is yet another collection of classy cuts proving that girl groups do have a healthy shelf life. The lights dim and we can all see all three members of Sugababes in arty silhouettes but then the curtains drop revealing Amelle, Keisha and Heidi in all their glamorous glory. Shapely, slinky with the confidence that only experience brings Sugababes sashay beautifully about the stage to "Round Round" accompanied by some truly great session musicians, letting the music speak for itself (there aren't any dancers, pyrotechnics or cheesy medleys), just an amazing pop show with style and panache. These woman live and breathe sophistication as they move with grace as the strobe lighting captures them during the synth bootleg "Freak Like Me". Heidi looks cute with her figure hugging outfit, sweet smile and her ability to laugh at herself when struggling to convey how grateful she is at the love and support her fans have given to Sugababes. More serious, but equally as stunning is Keisha who is the only original member. She has grown from a young girl to a beautifully sassy woman with a soulful, sensual voice full of spiritually. Amelle the new girl, has a vocal raw and husky and although pretty and feminine seems a little more streetwise and dare I say urban in the sense that she's tough but tender.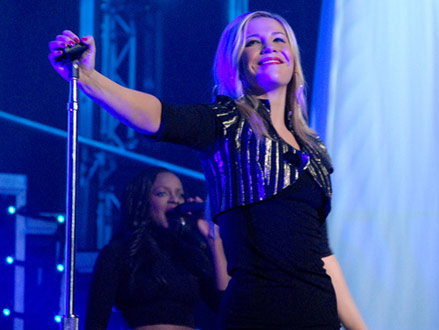 Showcasing two album tracks, musically Sugababes mix r'n'b, soul, funk and the spirit of Motown as the girls sing "It Ain't Easy" over a synth symphony of Giorgio Moroder meets Goldfrapp on this disco floor filler. More futuristic sounds from the hi-tech keyboards even mirror Daft Punk as they saucily instruct their would be gentlemen friends to "turn the lights down
low". The other quieter, more subtle side of Sugababes is reflected as the trio are perched on stools, harmonizing beautifully together on the ballad "Stronger". This is immediately followed by the sombre but haunting love song "Too Lost In You".
As premiered on the NME Awards show Sugababes rock out with guitars louder than ever before with their cover of Arctic Monkeys "Bet Ya Look Good On The Dancefloor" which is also the b-side of their new single. Sugababes debut single "Overload" is still a cracking tune with the guitarist laying down some eclectic, retro surf guitar licks. A cover of an 80s track "Obsession" is sadly lost on the pre-pubescent audience who weren't even born when it was released. I overheard an over excited fan confide to her friend "I've not heard this one before, it must be a new on". Bless their little cotton socks.
Their new single "Follow Me Home" fails to charm or even excite me. It's a spirited rendition but a bit gloomy and too overly dramatic for Sugababes. Normal service is resumed on the cheery dance fused pop song "Hole In The Head" which even had the pouting serious Keisha grinning like a cheshire cat. They then wave goodbye and leave, but we all know there's more to come in the fine tradition of the encore and as the band play the first few bars of their current single, the costume change is not entirely unexpected as the eloquently matches the title of the song "Red Dress" as Sugababes glide down the stairs like three prom Queens in an American Teen movie, the fans up on their feet in the circle at this point, clapping, cheering and singing
along.
Finishing their set with "Push The Button" Sugababes end a really terrific concert with many memorable moments from their now extensive back catalogue. In the not too distant future Sugababes plan to record their fifth album, a prospect that i'm looking forward to even more after tonight's show.
Nicholas Paul Godkin
*****************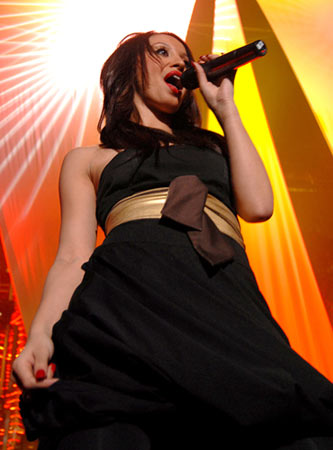 Click here to leave your Sugababes comments on the Message Board
(NB: The message board opens in a new window so please disable your pop-up blocker to view)
*****************