Sum 41 / Engerica - Manchester Academy - 6.7.05
With a punk heavy sound and shouty vocals Engerica remind us of a more Americanized version of Therapy. A three piece from the South of England, their frontman screams like he's on pain on the tightly delivered "Author". "Roadkill" though is more old school, but there's a lot more to this trio than just your typical metal blueprint. "Good Damn Suicide" is bluesy rock, a sad song but easily their best tonight by far. "Funeral Song" is a bit gothic with a nod towards Placebo (there's a distinct vocal not unlike Brian Molko). When addressing the crowd the singer snarls like Johnny Rotten, condescending to the core but compelling all the same. Signed to Sanctuary Records, they have a single "My Demise" out soon, but a much better choice would have been "What Sylvia Said" which ends with some Muse style melodrama, swirly guitars and a truly fitting finale.
Sum 41's Manchester summer date is a lot more intimate than their last visit to to the city, a visit at the MEN Arena, but it's full of youngsters running around like maniacs and you get the sense that Deryk and co are the pied pipers of rock forever leading teenage kids into their cave by the sound of rock. With a red skull backdrop the Canadian promise to deliver 90 minutes of rock'n'roll mayhem although it's more like an hour and fifteen minutes. Pint sized frontman Deryk Wybley has lost the peroxide and gone for darker hair, perhaps in respect for his musical hero Billie Joe Armstrong of Green Day. Thankfully everything else is the same from his pottymouth banter to the delightfully juvenile interaction with the audience.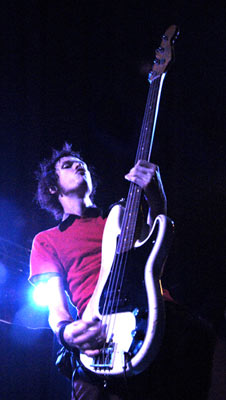 "Over My Head" is a po-going classic with the riffs supplied by Brown Sound an essential ingredient to the Sum 41 formula as the strobes make for an illuminating stage show. An unprintable title to a song about Anna Nicole Smith borders on misogyny, but a new found maturity is unveiled with the really heavy, but sweet melody of "Were All To Blame", which is a rare display of thoughtful introspection for the band. This ain't Radiohead though so the frat party style bonhomie continues with a song dedicated to all the alcoholics, pot heads and arseholes with the track "No Brains".
You wouldn't normally associate costume changes with Sum 41, but that's exactly what's in store tonight as Deryk dressed up as Fat Elvis with wig, padding, shades and a whole lot of attitude as he mimmicks the Kings moves to "Machine Gun" and the cover "That's Alright Mamma" as he gyrates towards the crowd eventually riffing in an evangelical preacher style. The ballad "Better Off Alone" is a change from all the metal mayhem, but it's the hits which go down best with the kids like "Motivation" and "Fat Lip" but the omission of "In Too Deep" is surprising, but after such an entertaining set it's churlish to complain.
Words: Nicholas Paul Godkin
Photos: Shirlaine Forrest www.shirlainephotos.co.uk
*****************
Click here to leave your Sum 41 / Engerica comments on the Message Board
(NB: The message board opens in a new window so please disable your pop-up blocker to view)
*****************
PHOTO GALLERY