Take That - Manchester MEN Arena - 4.5.06
Designer Magazine has seen ickle Mark Owen on every single one of his Manchester solo dates, waltzed to Robbie Williams "Angels" at Old Trafford and even seen a rare solo performance of Howard Donald at the opening ceremony of the Commonwealth Games a few years back in St Alberts Square. Our connections with the other two aren't even worth mentioning, but nothing could prepare us for the pandemonium which we witnessed a few hours before tonight's first comeback gig in the boys hometown of Manchester. Local pubs are men free zones with 30 something year old women adorned in home-made T-shirts with slogans like "Take Me Jason" across them. In the years gone by these Thatters may have got married, had kids and yawned as they had to witness the pale imitations of Westlife, Blue et all with their kids but they clearly haven't forgotten their teenage years where they stalked the 5 boys from Manchester.
As the boys explode onto stage for the first song "Once You've Tasted Love" or as it should be known "Once You've Tasted Take That" we're took back. Designer Magazine first witnessed Take That backstage at the BBC many years ago, we didn't know who they were at the time as we'd gone down to see Blur (or was it Vanilla Ice) on the 8.15 from Manchester and as we walked out we were intrigued by this large group of sceaming girls. We walked down to see what they were looking at and the only person we recognized was TV Presenter Peter Powell and a strange bloke in bondage gear and badly bleached blonde
hair. That guy was Gary Barlow and the rest of them we simply couldn't see as they were hidden by security and about 30 girls around each one. It turned out that band were Take That. Tonight the pandemonium is the same, everyone has grown up including the boys who are suited up like dandies delivering dance routines which although would be considered outdated in comparison to today's standards still outstrip british boy bands such as Westlife.
What follows is a series of greatest hits from "Pray" to "Why Can't I Wake Up With You" and "It Only Takes A Minute Girl". Only a new song off the "Greatest Hits" collection provides so much as a bar break before Mark Owen takes centre stage for "Babe" to the loudest screams of the night. As someone who's seen Mark over the years develop as one of this countries
genuine underrated songwriting talents it's a strange experience to watch him swap his role to that of heartthrob teen idol, but it works as he must have only aged about 5 years since he first hit the road with Take That.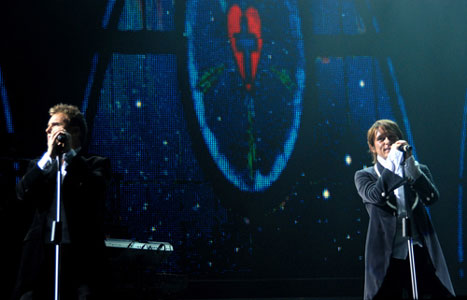 During "Everything Changes" we look to the curtains half hoping that Robbie would come out and sing a number with his former bandmates. It was never going to happen but it didn't stop the rumour mill spreading throughout the day with radio announcing he'd been spotted checking into the Lowry and ever touts outside the venue reiterating the claims. It doesn't really matter as he didn't join the band as their farewell tour all those years ago was a storming success without him, but it would have been a nice touch and perhaps boosted Robbie's career more than Gary, Mark, Howard and Jason's as there is going to come some point where his career goes a little Ronan Keating.
Taking to the centre of the venue for a Beatles Medley, complete in the red suits they used to wear, they tell the crowd in an unscripted moment about what they love most about the comeback tour. For Mark its coming onto Deansgate and realizing instantly your in Manchester, for Howard it was the fried eggs (you had to be there) and Gary remains silent maintaining his
status as the boring non dancing member of Take That (a fact that's hilariously worked into a set piece about how to form the worlds most perfect boy band where typically one member cant dance)
Whether its the moment when a bra lands on a shocked Jason during "How Deep Is Your Love" or Beverley Knights superb stand in for Lulu on Relight My Fire" it was a non-stop pop performance that relied on the songs and personalities rather than any gimmicks. "Back For Good", one of the best songs of the past 30 years, has the band dripping down in rain to recreate the
video as does "Could It Be Magic" which really needed Mark Owen to get his baby oil top out for nostalgia.
During the final song "Never Forget" there's smiles, tears of joy and memories that live up to the first time round. Welcome back Take That who will revitalize the pop scene as nobody has really matched up since.
Alex McCann
Photos: Shirlaine Forrest www.shirlainephotos.co.uk
*****************
Click here to leave your Take That comments on the Message Board
(NB: The message board opens in a new window so please disable your pop-up blocker to view)
*****************