Taste Of Chaos - Manchester Apollo - 6.11.05
Coming across like a musical tapas, The Taste Of Chaos tour brings together some of the hottest names in rock and puts them together as a package for your delectation. Already a huge success in the States, its brought to us by the same people who brought us the Vans Warped Tour, this year its taken in Australia and Japan as well as here in the UK before heading back Stateside with bands such as Deftones, Thursday and Thrice. With any tapas it allows you to have a mere morsel of each dish before moving onto the next dish and ultimately the problem comes when you want a little more of one dish and a damn site less of another musical flavour. As with all the best restaurants there's a few local specialities thrown in for good measure, this time a competition ran by promoters SJM which encouraged fans to vote for their favourite local rock band from a list of about 100, and as seen as Designer Magazine favourite's Astro-Boy didn't win we had scant disregard for the selections on offer.
After sets from Reggie & The Full Effect, Killswitch Engage and Rise Against it's time for the first of two main courses. The Used have a faithful following over in the States, but a disappointing 2nd album have seen audiences dwindling to the point where people are more interested in Bert McCrakens special relationship with My Chemical Romance's Gerard Way than they are about the music. McCracken is an engaging frontman who to a large extent takes away from the fact that the Used don't have that many great songs in their arsenal. The uber-smash "Taste Of Ink" was where it was at, a bouncy moshathon for the mini-moshers and emo boys to sing along to - an anthem of discontent. Maybe they should just repeat this track for the 30 minutes in the future cos it's above and beyond the rest of their material.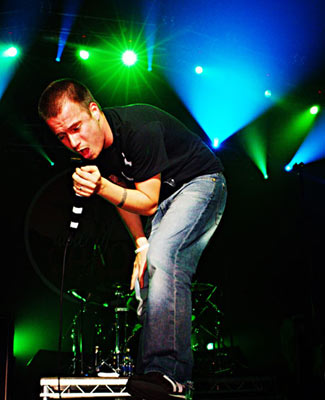 Funeral For A Friend are a band who faced a lot of criticism, much of it undeserved, as soon as they got out of the starting blocks, but if anything the criticism they received about the first album has lead them to produce a 2nd album which in spirit, if not sonically, captures the free spirit of their early EP's
Live the screamo elements are still there, but they're transcending the genre they were borne out of. Earlier on backstage they were heaping praise on Trivium for always staying true to their metal roots, but launch into an attack on an unnamed band who's metal influences have only come to light now it's the zeitgeist. Trying to avoid the emo clichés Matt has shawn off his locks to a shaved skinhead so he doesn't get caught up with any of the scenester bullsh*t. Tonight they combine the best parts of both "Casually Dressed and Deep In Conversation" and "Hours" as they rip through "Escape Artists Never Die", "Streetcar" and "Juneau" in a brief 40 minute greatest hits set. It seems that while most bands will feel the pressure once emo burns, FFAF will be standing tall, no doubt morphing into one of the the UK's finest rock bands.
Tonight certain offered a taste of chaos, some of which we spat out, others like FFAF we desperately wanted a second helping.
Words: Alex McCann
Photos: Karen McBride www.karenmcbride.com
*****************
Click here to leave your Taste Of Chaos comments on the Message Board
(NB: The message board opens in a new window so please disable your pop-up blocker to view)
*****************