Taz
Designer Magazine meet's Taz backstage on the Dizzee Rascal tour. Sway's up on-stage as we speak and in just over an hours time Dizzee Rascal will be on-stage to an audience mixing up a variety of races, ages and backgrounds. Just a couple of years ago a tour of this size wouldn't have been possible, but now as UK Urban music steps forward and pushes the barriers, while their American contemporaries tread water, the dream is alive. Talking about his background where he started MC-ing to Kris Kross, Taz has come along away as Designer Magazine's Alex McCann found out.
Q: You've just done like 3 or 4 dates on the Dizzee Rascal tour. How's it been going man?
A: It's been going wild man. Dizzee's tour's a good thing for me to head out on cos he knows where i'm coming from. I produced "Jus a Rascal" and I produced a tune on his new album. Dizzee's put it down for me as someone I respect as an artist.
I see what happened to So Solid as a bad thing, but that's what happens when the media labels you as a bad thing. Dizzee's gone well past the level and there's no-one that's got to Dizzee's level from England. Like Dynamite, but he's gone well past the level and all it is is 2 albums are out. I have to take my hat off to the young kid and i'm proud of him. I know him when he came from nothing and i've seen him grow to this stage. As long as he blows, I blow cos i will breathe through him and i'll still work on his albums.

Q: Not many contemporary urban acts come out and do the live shows. Dizzee's come out and changed all that
A: It's good to come out and do live performances and see the people's reaction, the people you've been making the music for. People who have come from a struggle, but it's good that people are struggling to come and see you. For real. It's the live shows when you feel that connection, yer know what i'm saying, the people that you're speaking to can really hear you. People are coming up to me before and after the shows saying "We really like the music and Taz, we don't think you're getting enough love right now".
Cos i'm not really a mainstream person am I? It's hard for me to break through to the mainstream, but people are hearing about me little by little. People probably don't know about me cos my record company don't go out and whistle about it like "Taz, Taz - The New Sensation"...we just left it so people could find out about it themselves. People feel more close to me when they discover me, like you do cos you discovered me.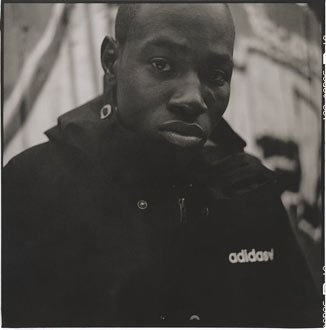 Q: Taking it back to the beginning. You grew up in Jamaica and then moved over here. How did that influence you?
A: A lot of that has influenced me in my music. In Jamaica it's where I started and I came to here when I was about 11 and then went back to Jamaica. We were doing shows with Beenie Man and Shabba Ranks. Those people influenced me a lot and the school fetes over in Jamaica you do a talent show at the end of every year to emphasize the talent. I don't know why they don't emphasize the talent over here.

Q: When did you start actually MC-ing?
A: From the TV, Shabba Ranks and Beenie Man like I said. Even Vanilla Ice and Kris Kross - all them days I knew every word to these peoples every song. Serious, something was wrong, but I wasn't writing lyrics at the time. I didn't know about freestyling and all that. I would just have melodies in my head.

Q: So how did you get from Kris Kross to where you are now?
A: When I reached about 14 or 15 I started to get the message. I'd write one word down and then start freestyling. I was always freestyling things you see. That's when I started to come out fully with words, but I never still came to the basis of doing a track. My step dad used to manage Gregory Isaac and I used to be in his studio and artists used to come over from Jamaica and say why don't you put Taz in the vocal booth, but he didn't listen. You know when you've got somebody around you that's talented and you go f**k it until it builds up around you.
I started to do my own thing. Producing beats. I always had beats going on, cos I could beatbox from a young age. Basically from that I just kept going and writing and writing...and then I learnt how to voice a whole track. When i'd done that the first remix was Ashanti, Semtex was looking for me for a long time after I heard "Jus A Rascal" and I used the money from that to buy me my first studio time for the first single. From there i'm here now.

Q: Ashanti to your own album. Mad mad journey. Did you have it all planned how you wanted it to sound?
A: I had most of it in my head already and the next album's gonna be even more killer. What I did is I just went in there and ripped the things. I didn't write the tunes early on, so I just went in there and whatever. Now I understand the game, when I come back the second time i'm gonna serve them. It's still a solid album though and I faced about the issues around at the time. I was broke, council estate and I was on the dole for a long time and anyone can relate to that in England...but i've always worked and still be on the dole (laughs). I had a job and didn't use my national insurance and all that.

Q: 2005 - what you working on?
A: I'm on Dizzee's next album, we've just been working on some stuff. I've just done something for Liberty X and I'm gonna work with proper artists like Kalashnikov. I'm getting back in the studio for my second album "British Plague", "British Plague" is going to be big. Make sure everyone checks out "Analyse This" though so people can see what i'm about

Q: You've said before you wanna kick US artists out and let UK artists come through. Who do you rate?
A: Kano, Wiley, Roll Deep, Sway, Kalashnikov - all the usual suspects. Over the next 2 years it's gonna blow up in the UK. My second album "British Plague" is gonna be a masterpiece - Britain is gonna be hit by a plague and i'm the plague. Everything that's happened to me I feel that it's a plague. If your wife leaves you it's a plague, car crashed, accidents, kids shooting kids - it's a plague!!!
**********
"Analyse This" is out now on Def Jam
For more info
www.tazonline.co.uk
**********
*****************
Post your Taz comments / reviews on the Message Board
(NB: The message board opens in a new window so please disable your pop-up blocker to view)
*****************