Test Icicles / 4ft Soldiers - Manchester Night & Day - 27.10.05
If the only musical talent to come out of Warrington so far was a couple of members of Starsailor then it's all set to change with 4ft Soldiers. Already building up an impressive fanbase after supporting Towers Of London and Glitterati, this main support slot for Test Icicles is gearing them up for great things in 2006. Although they claim to be influenced by Faith No More, Led Zep and Green Day there's much more going on than a Who's Who of rock with 4ft Soldiers. "Quebec" has as much in common with Interpol and disco punk as it does with the mosh-pit, "Fade In" sounds like a culmination of disparate influences somewhere between The Killers and the Chili Peppers, "Submission" manages to mix a trippy Madchester verse with a sugar-coated QOTSA chorus. If on paper it reads like a band who aren't sure which direction to take, then in reality it all makes sense with the pop sensibilities bringing everything together into huge world beating tunes and topped off with an commanding stage presence you need to look out for this band.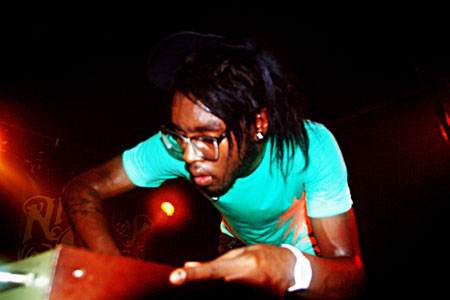 Imagine if at the end of of S Club Juniors, Calvin, Aaron and Jay were left penniless and destitute and dropped off in a bin bag in the middle of the East end. Rather than get stuck in an orphanage they take to the streets, pick pocketing their way around town, turning to a bit of ultraviolence where needed and crashing the best parties. What you would get at the end of it is Test Icicles, a band so young and wide eyed who have listened to every record by the Beastie Boys, Alec Empire and some gabba techno shit and thought f**k we can do that to if we just picked up a guitar and 808 from a pawn shop.
It's so refreshing to have a band who clearly doesn't give a f**k if anybody likes their records accept them. The gig was sold out weeks ago and yet you get the impression if there were 2 people here tonight to watch them they'd simply be putting on the same display of youthful exuberance. Each song from Test Icicles is like a blast of fresh air, the ultimate band doing what they want because they it sounds like all their favourite records played at once and not changing it one iota to fit into the current zeitgeist. "Circle Square Triangle" sounds exactly like that, 3 different shapes and sounds squashed together until they fit into a punk funk template and yet it's more than that. It's squalling white noise with 3 nutters screaming over it and somehow it makes the most brilliant pop record. "Boa Vs Python" sounds like Bloc Party being mauled by Atreyu with the latter just about winning on points as Kele Okereke falls to the ground with a broken nose. Elsewhere on "Catch It" they make Atari Teenage Riot sound like a bunch of X Factor contestants.
The world would be a duller place is we didn't have Test Icicles exploding across the stage making the noisiest life affirming dirty pop music known to man
Words: Alex McCann
Photos: Karen McBride www.karenmcbride.com
*****************
Click here to leave your Test Icicles comments on the Message Board
(NB: The message board opens in a new window so please disable your pop-up blocker to view)
*****************