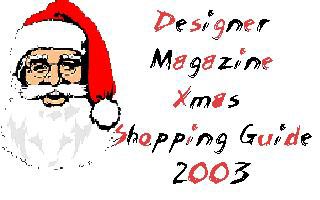 ---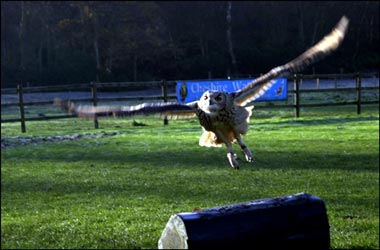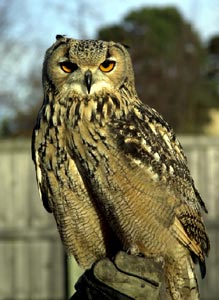 ---
In the millennium the whole idea of shopping and in particular gift shopping has been changed by the idea of personal shoppers or this new wave of experience led shopping. Once it was simply enough to head to the local high street stores on Xmas Eve, throw £50 on the counter and hey presto the wife / husband was mucho impressed. Maybe much of this change in culture is down to the lifestyles we live today and especially being in Britain where we work longer hours than the rest of Europe there's an idea that the spare time we have must be spent productively and it's these one-off experiences rather than passionate hobbies that people are finding themselves seeking out and relishing.
I first came across the concept of this a few years ago when a number of friends bought these experience packs from a well known high street retailer. The fact that you could go and buy a pack for just over a £100, in these cases one for a flying experience and the other for a Go Carting experience, was very much in vogue with the extreme sports fascination where every charity event had to include at least one person in the office absailing or bungee jumping. This of course was the genesis of the idea which at the time admittedly seemed aimed purely towards the go get it macho male and offered little for anyone else who fancied gentler pursuits or indeed anything vaguely aimed at the 51% females of the worlds population. What Thanksdarling.com and several other similar sites try to do is offer a broad range of experiences for all genders, ages and backgrounds rather than specialize in any particular sector. In most retail sectors this would be a case of spreading yourself too thin, but in the world wide web where they can interconnect with other business they can deliver the whole gamut of anything you could ever wish for and if they don't currently offer what you're looking for you can put money on it that given enough specific requests they will soon offer it on their books.
Originally when the team at Thanksdarling.com approached us with the idea of writing an article on the site we simply typed in Manchester on the search engine and the first option that came up was the Thanksdarling Make Up Experience. As someone who'd both lost a significant amount of weight and also seen popstars with and without the make-up we thought it would be an amazing experience to actually see first hand what the likes of Robbie Williams and Westlife have to go through each day. The very idea of actually been given an initial consultation with a personal make over artist and then seeing that through to the point where 30 photo's were taken and then with the best photo selected having a personal momento it was too much for us to resist...but alas it was not to be as the team came back promising something bigger and better. Naturally the inquisitive nature got the better of us and we started trying to second guess what else they could possibly be sending us to in the Manchester area, but in truth the number of options they have was bewildering and we gave up. A simple look round the site is mind-blowing at the range of options they have available. If you consider the Top Sellers list includes the Ferrari 308 Experience, Military Mayhem, Shadow A Keeper and Relaxing Spa Day as well as more traditional gifts such as pendants and Archived Newspapers there really is something for everyone.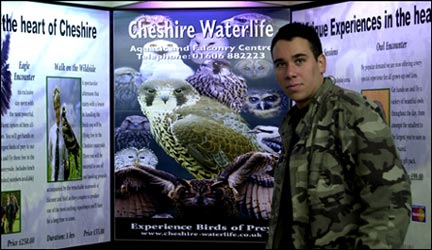 What the team actually came back to us with was the Bird Of Prey Experience in Northwich (also available at 4 other venues across the country) which again surprised us with yet another arm to the list of experiences they offer. The initial impression was one of both excitement and abject fear. Even though my Uncle had bred and flown pigeons for the last 40 years and I myself had been a keen animal lover for years the very idea of these gigantic birds flying within a few metres of me was alone terrifying and that wasn't taking into account the fact they would be eating from my own hands throughout the day. Strange that for all my rock & roll excesses I'd seen throughout the years that the very idea of turning into the human version of the film Kes scared me so much. Myself and photographer Karen headed off on a cold Thursday morning to the centre in Cheshire and met with the fellow Thanksdarling customers who'd had nothing but praise for the site and had used them many times with huge success and tale after tale of how they couldn't believe times when sites such as this were simply and idea waiting for fruition.
When you first get to the Cheshire Waterlife Centre which is the Northwich Centre that hosts the experience you get introduced to each of the Avery Birds at the centre. Housing the rarest collection of Owls in this environment, the avery birds are so called because they very rarely fly, which to the outside may seem against their nature but as the amiable host explains they like to fly as little as possible and are lazy by nature. The way they actually tell whether the birds are happy in their environment is to actually let them breed and if you get a celibate bird it may be a case of simply changing the partner on offer or housing him in a different cage. The birds which you get taken through are the McKinder Owl, Pedigree Falcon (the very type featured in the film Kes and comedy show Bo Selecta if i'm not mistaken), Harvis Hawks, Serpent Eagle, American Red Tailed Buzzard, Russian Steps Eagle, White Tailed Seagull, European Eagle Owl, Lugger Falcon and a Bengal Eagle Owl. Both getting across the facts and also keeping people interested is a hard job and the host manages to keep you listening throughout and although I could explain to you how long each of them takes to mature sexually and various other facts such as this I don't want to spoil the fun for you when you get there.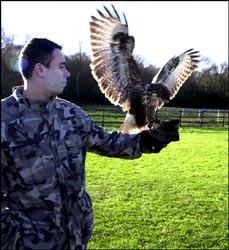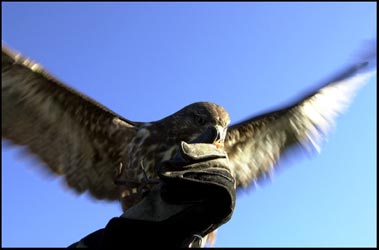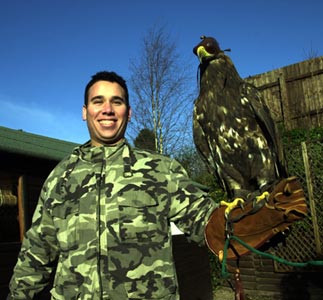 The second half of the experience is centred around the actual flying of the birds. It's something that from prior experience the centre has found customers don't actually expect. They seem often to take the words "Bird Of Prey Experience" to actually mean just meeting the birds, learning about the birds and to actually watch the instructors fly them before your eyes while you watch from a distance. Being one of two journalists covering the experience that day naturally it was time to have a bit of fun and after explaining that the birds fly at you from the rear and to the left hand side (it's a traditional thing) the instructor promptly grabbed my hand shortly after and without notice left the morsel of food in my glove. Within seconds the first bird (of which reaching speeds of over 100 mph faster than the average car is a ride in the park) is within spitting distance of my face. Looking face 2 face with these birds so close for the very first time is shocking and yet after the first time you do it with ease and relax to actually look at the make up of the feathers and explore these creatures first hand. With roughly four birds flown several times throughout the half day experience you get to really learn and understand how the mindset of these creatures work and watching them fly so gracefully through the air is as interesting for guest spectators as it is for the actual person flying the birds themselves.
This experience I'll never forget as long as I live and that ultimately is what Xmas Presents or for that matter Birthday Presents should be all about. When I look back at all the years you've spent so much money on people on presents which in a matter of months will be forgotten about these types of experiences are certainly things I will be looking at each year for my nearest and dearest. With prices ranging from as little as £10 for small gifts through to the 1000s there is more than enough for anyone and if you're struggling to find something specific then their are a range of vouchers than can be used on a range of activities to suit most people. So what are you waiting for - log on now.
Words: Alex McCann
Photos: Karen McBride - www.karenmcbride.com
****************


For more info and to purchase the ultimate gifts
www.thanksdarling.com
****************