The Ark
While many saw The Darkness as a one off band, those in the know knew they were simply part of an international movement that's been bubbling under for the best part of the last decade when Britpop wiped out any attempts at glamour with a quick left hook. The Ark are the biggest band in Sweden at the moment and when they release their forthcoming 3rd album in the UK towards the end of 2004 they will be the band that clips Justin Hawkins wings. It was back in 1991 that the Ark's frontman shocked Sweden at the age of 14 by slipping into a catsuit and declaring himself bisexual to the world. It was the equivalent of a teenage David Bowie camping it up in an Glam Rock Juniors style troupe and suggesting to Cat Deeley that in fact he likes both boys and girls. By 2001 the Ark were the biggest band in Sweden, headlining festivals and bringing bands like Melody Club and The Mo out of the shadows of Vaxjo. Britain, we introduce you Ola Salo and The Ark!!!
Q: You've just got back from Gambia this morning. Was it work or a holiday?
A: It was a holiday. I went there together with my girlfriend. But also since we are in the middle of the recording process I was interested in getting some musical input as well. I hung out there with some African musicians also and played a little with them and recorded some stuff. I've been in a phase recently where i've been quite interested in African music and some of the new songs i've written for our 3rd album has got some, they're not really obvious, but they've got some kind of inspiration from African music. I met up with this band and was listening as to how they were arranging their music and the rhythms in their music. Just trying to get into that in some way.

Q: We're going to start at the beginning and work the way forward for the UK readers. Over here people might not have heard of you, but you're the biggest band in Sweden aren't you?
A: Well, I guess you could say we're one of the biggest band in Sweden. You could say our breakthrough was in the year 2001 and since then we've been one of the biggest bands here. We never really asked for the mainstream success we got here in Sweden, cos we always regard ourselves as an alternative band. I write the music in a way that I think anyone should be able to enjoy the music, but I don't think we ever regard ourselves as a broad music band.

Q: You guys started in 1991, 13 years ago. That's insane to think that it took that long to breakthrough?
A: Then you must also consider that when we started we were only 14 years old and were still at school. We were living in this very rural community in Sweden. It was very hard to get anyway from there, especially when you were still living with your parents and going to school. But it is amazing that we have kept the same name and there is a sort of red thread that goes through our whole history as the band, although were not exactly the same line-up as we were in 1991

Q: What did you sound like in 1991 - an earlier version of what we know now or totally different?
A: I think the biggest different is we were more psychedelic. We were into more psychedelic and progressive music. Our biggest influence in those days was the Doors, but we were also very inspired by King Crimson and Pink Floyd. By then we called our music Apocalyptic Rock cos the music was sort of theatrical and the lyrics were very much apocalyptic themes.

Q: A lot darker than what we know as the Ark now?
A: The music was still very joyous and I would say there is still is a very apocalyptic feeling to what we do now. Our music has always been about living life to the fullest and fully enjoying the now, that's sort of an apocalyptic way of seeing things - if the world would end tomorrow what would I do with my life today.

Q: We were chatting to a band called Kamera who were describing your hometown of Vaxjo. Is it really as dark as they say it is?
A: It's quite isolated city in the region of Sweden called Small Land which is most known for that it's covered in dark woods. It was the region where most people moved away from Sweden during the end of the 19th Century. We actually grew up in a small town outside Vaxjo called Rottne, which is quite funny because it sounds and looks very much like Rotten. I think the origin of the Swedish word is the old Swedish word for rotten because there's swamps surrounding that town. There was nothing really to do during the days.

Q: Was music your escape then?
A: I would say so. And not only music but creating your own imaginative world was a way of escaping the boredom of the place we live. But also a way to activate ourselves.

Q: When you were 14 did you ever imagine you'd get this far?
A: Of course when we formed the band we were dreaming about world dominance, as all bands I guess. The appeal of being in a rock band is you've heard all these stories of bands starting off in small rehearsal places in small towns and actually making it big. It's sort of the classic rock saga about a gang of friends playing somewhere...that's sort of an inspiration for young people like us living in a small town. That rock music could actually take us somewhere else, cos it has taken other people to greater and more interesting places than where they grew up.
There was no people from Vaxjo who had succeeded by then though, it was a white dot on the musical map of Sweden. I think we were the first band from Vaxjo making it big, but then after us there have been at least two bands making it big. One is called Melody Club and another band called the Mo' who are getting big in Sweden. All of these bands are good friends of us.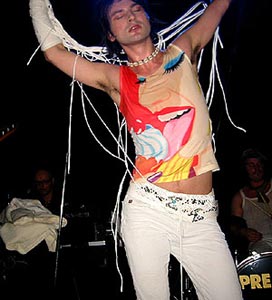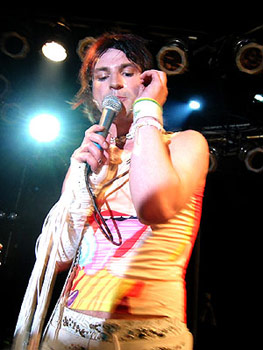 Q: And these bands were kicking against what the world knows as the Swedish sound?
A: Like Ace Of Base and Doctor Alban? We were never into that sort of music. Generally we thought that music in the late 80s was really dead ass boring. We didn't find anything in it that was really interesting. The mainstream music that was played on the radio was very uninteresting, those sort of pop bands and internationally it was very conservative Bryan Adams style bands.
And the alternative bands that were around then didn't really appeal to us either, we were never into the Cure. When you come from a small place music is the vehicle of taking you to something. Music is your way of dreaming about big and bombastic things and I think that's why many of the bands throughout pop history have played very bombastic music. The music is the way of making your life into something bigger than the place you come from and the life you're living. That's why we turned to the 60s bands rather than the contemporary music.

Q: The bands that you were listening to for the Ark sound were obviously Bowie and T-Rex and their ilk
A: A lot of that. As I mentioned in the beginning there was a lot of the Doors and more the sixties than the seventies in the beginning. And then I got really heavy into David Bowie and the English glam rock scene some years later. That had a really big influence for me. That's always been a core inspiration for me in a way.

Q: Like the glam rock era the image is really important for you as well
A: In that way I think we work in the Bowie-esque tradition where you don't regard image as forced on to you from some record company, but instead its an artistic means to express yourself. We have always been very sceptical of any band that denies they have an image cos you always have an image whether you want it or not. Because of that you might as well do something creative. In our very first concert in September of 1991 I remember I wore a catsuit made out of a ski-ing jump-suit which I had sewn on dead flowers and stuff. I've always been very interested in performance art. Stage clothing is a way of bringing performance art into pop music

Q: How did you parents react to you prancing around in a catsuit at 14?
A: They probably thought it was probably a phase. Maybe it is, but it isn't over yet.

Q: Have you always thought it quite strange that some bands just get on stage with jeans and a T-shirt?
A: Of course I understand the point of that, that they want to express on stage that they are for real. I respect that. But when doing that you forget one very important thing - the stage is not an ordinary place to be. Everyday life hasn't got stages here and there. The stage is a place of rituals and the ritual of a person going up on stage and performing for other people is maybe the one religious ritual that still exists. This is the biggest and most important religious ritual in our society today. I think that is what you forget when you do this staying real and keeping it credible talk...you can have you old used jeans and T-shirt that you wear, but when you go up on stage and wear that you will say something with it. When I go up on stage I want to say something about the possibility of making the world a more joyous and fantastic place.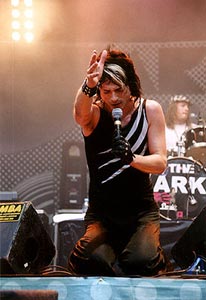 Q: How did you feel about doing it for 13 years and last year the Darkness in the UK came along and did essentially what you guys are doing?
A: Our manager and publisher once said something very wise. He said "If you had been half as good looking, half as talented and had half as good songs, but you had come from England, you'd have been twice as famous by now". It was four or five years ago now that he said that.
I really like the Darkness, but in the more jealous aspect of my personality I think that they're the evidence of that thesis that our manager once said. I met them when they were here in Stockholm playing and gave them one of our CDs. I heard from a friend that had interviewed them recently that they'd been playing it constantly since, so that was quite nice.

Q: How do you feel that affects your chances of breaking through in the UK?
A: We would gladly take any chance to come over in the UK. We've been quite frustrated with the situation that we haven't had the chance to spread our music anyway in the UK. I do think there is an audience for us there in the UK, but we just haven't had the chance. It's strange cos we have played a lot in Europe and Italy is probably our biggest region after Sweden.

Q: So will you come over here to the UK with your 3rd album?
A: There was an idea that we would put our first 2 albums together into a hybrid album and get that released in England. We started to explore that idea, but now that we've come quite far in the process of our 3rd album that we're totally focussing on that. Were gonna make this 3rd album as good as possible and come with that as our debut album in the UK.

Q: What is the 3rd album sounding like at the moment? Have you actually recorded any songs?
A: I spent the autumn making demos and I think what will be different with this album than the other albums we've done is that this one will be more simplistic and minimalistic. It will be less sound, but more rock. I've never listened very much to AC/DC, but when I was writing these songs I really discovered them for the first time. When I've been writing these songs i've been listening to lots of music that shares the same kind of minimalism. There's actually a huge similarity between Kraftwerk and AC/DC and that's the air between the notes in the music. The music is very spacious and I think when I look back on the albums we've done before perhaps the only thing I regret is maybe there is too much sound.
Our first album you could say was a typical debut album where we put all the best songs into the pot and tried to push those songs as much as possible into making this as energetic debut as possible. On the 2nd album we maybe wanted to broaden the idea of ourselves and I was concentrating very much on the lyrics, it was a very political album. This time on the third album my concentration has just been on writing simple songs. Songs that have a very positive message and are danceable.

Q: What themes are coming up in the lyrics this time round?
A: It's about friendship and having a good time. The albums we make always have a concept running through them. This time is an apocalyptic theme - it's about love and the end of the world!!!
The first album was very much concentrated on We. "We Are The Ark", we were presenting ourselves. The second album was concentrated on the word I, cos it was very much about me, my life, thoughts and opinions. This album the most important pronoun is you. It's about friendship in an apocalyptic age.

Q: You mentioned before about African music influencing this record. How's that feeding into the Arks sound?
A: Our music will always stay in the tradition of glam rock I think. We're very grounded in that tradition of David Bowie, T-Rex and Roxy Music. This is a modern glam rock with some Afro synth influences with a lot of theatrical elements that is very typical for the Ark

Q: Are you working on any new outfits for the UK take-over?
A: (Laughs) I think they will be more sporty. We were really alone with having catsuits some years ago and there is a problem that if we went over to the UK and started playing people would think that we are a very Darkness inspired band. You can regard that as a problem, but i'd prefer to regard it that for the first time in our lives we are part of a scene, an international scene. It will be really interesting cos we will start competing with the Darkness of who can make the coolest catsuits!!!
Words: Alex McCann
Live Photos: Jasmine @ Trustlust (www.trustlust.co.uk)
***********
"We Are The Ark" and "In Lust We Trust" are out now on Virgin Sweden
The 3rd untitled album is expected to be released by the end of 2004
For more info & soundclips
www.thearkworld.com
***********
**********
Post your The Ark reviews / comments on the Message Board
**********

---

BANDS WANTED
Are you in a Swedish or European pop / rock band? If so Designer Magazine wants to hear from you.
Send all albums / demos to the address below with a biog and photo etc
Alex McCann
C/o Designer Magazine
8 Northway
Altrincham
Cheshire
UNITED KINDGOM
WA14 1NN
Email: alexmccann@ntlworld.com
---