The Cardinals - Night & Day Cafe - 2.05.04
As the opening melodic chimes of the first song ring out the Cardinals vocalist Nick Mallins is facing with his back to the audience getting lost in the music. The gig ends with him mounting the speakers guitar aloft in the air in a show of defiance to all the doubters. What happens in-between is the stuff legends are made of and this gig will become to contemporary Manchester what those early Oasis shows at the Boardwalk are to Manchester's past musical legacy. The Cardinals are a band who are a triumph over adversity and when the band signed their deal with B-Unique earlier this week there was a sense that this could be the band that take the label even further than their now label mates Hot Hot Heat, Har Mar Superstar and The Ordinary Boys.
The Cardinals are a band who over the past 3 years have watched scene's come and go and bands switch their musical allegiances with the tide to fit in with a few poxy scenesters version of musical utopia, but as these bands have fallen by the wayside the Cardinals have been working on the songs which will sit alongside "This Charming Man", "Love Will Tear Us Apart" and "Live Forever" as true Manc anthems. Not that musically they are heavily indebted to what has gone previously amongst these city walls. They might recall the gang spirit of the Stone Roses, but the band are clearly cutting out their own vision of the future on songs such as "One Way Out" and "Building Bridges". Nick Mallins, singer songwriter for the band clearly has his eyes set on creating epic anthemic songs sung from the terraces, Rez's genius guitar work could just see him lining up to be the next big guitar hero, bassist Joe Wilson is the heir to Mani in terms of being a mad for it in yer face star of rock n roll proportions and Lee Thompson manages to switch between minimalist ambient beats to a full on four to the floor thrashathon of the final bars of "Landslides".
Although the likes of Doves and Elbow have achieved a tremendous amount, Oasis to some are still the benchmark to aim for and The Cardinals could just be the band that reach it and surpass it. When the band release their debut single later in the year they will be the only band in the UK that anyone's talking about!!!
Words: Alex McCann
Photos: Karen McBride - www.karenmcbride.com
**********
Post your The Cardinals reviews / comments on the Message Board
**********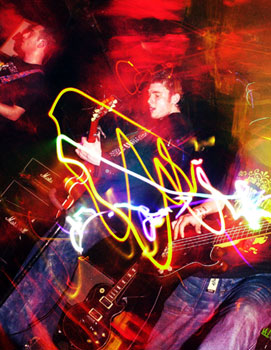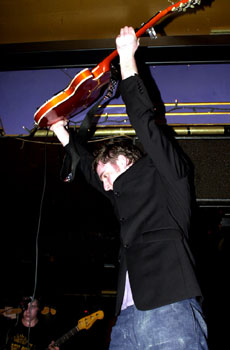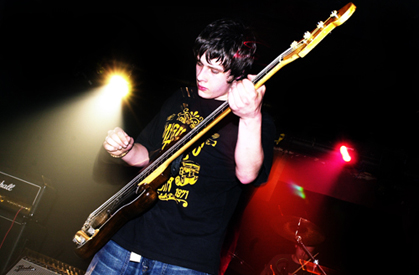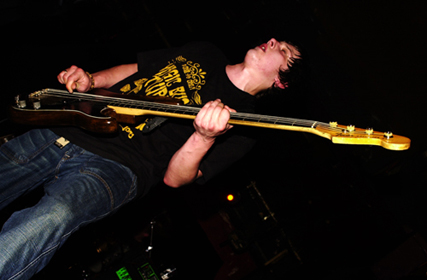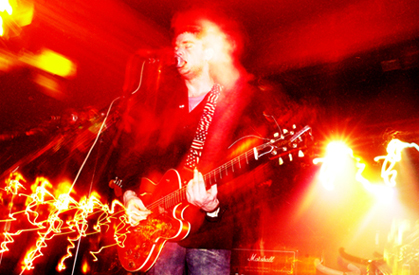 *************
Read our interview with the Cardinals by clicking here
*************