Designer Magazine presents....The Cardinals / Kill The Young / Pioneers / Outsider
Manchester's Night & Day Cafe - 22.11.05
Designer Magazine gigs this year have taken in everything from the prog rock of Pure Reason Revolution to the primal punk of Engerica as well as the teenage rock of Linchpin. As part of Night & Day's 14th Birthday Week we were asked to choose a line-up that represented the best of Manchester so we asked The Cardinals and the Pioneers to return and brought along Kill The Young and Outsider as Designer Magazine virgins.
Outsider were one of the hotly tipped bands of this years In The City showcases playing 3 gigs across the weekend. It's easy to see why A&R men are keeping their eyes on these guys because with an arsenal of catchy guitar pop they could just be the next big band out of Manchester. It's still early days at the moment and songs like "Understanding" and "Only Yourself To Blame" have really captured the hearts of their fanbase. Their the sort of songs that Haven used to write and Longview wish they could write while at the same time having the commercial appeal of a band like Keane. The rest of the set is a little more introspective with tracks such as "Cafe" and "Beautiful Words" displaying much wider influences than their native city. Ending on a cover version at the rest of Designer Magazine they tackle "Come Together", a song for the people by the peoples band. What more could you ask for?
Pioneers played our 6th Birthday Party back in June and a lots happened since then. They've just come off the road with Starsailor playing to packed out Theatre's across the UK and the "So Long" single and "Out Of Here" mini-album are set for release on Northern Ambition records in a couple of weeks. As a live band they've come so far since the early days and they're now delivering on that early potential. Pioneers have always had the ability to write great songs, what they used to lack in was harnessing those songs into a great show, but obviously touring with Starsailor on the main stage has taken them to that next level. "So Long" starts out with a "Pounding" style intro before launching into a hands aloft anthem, "Watching Stars" combines all the best bits of Mancunia and "Out Of Here" is sublime. Sometimes the best things come to those who wait and while other bands in Manchester have been mouthing off Pioneers have sat and wait for their time to come - their time is definitely now.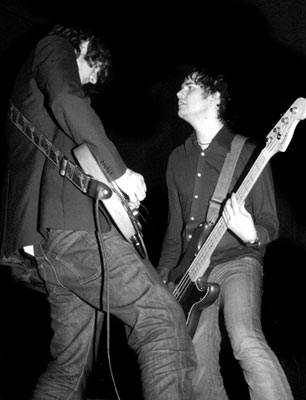 Kill The Young are 3 brothers based in Manchester. All Gormans, but alas no Dave, that would be too perfect. Signed in Manchester by a French label the band were spotted by Goldfrapp and Placebo producer Dimitri Tikovoi who went on to record their debut album. While Manchester has a history of indie bands the success of a band like Nine Black Alps has made it possible for bands like Kill The Young to be taken notice of and despite a storming set including recent single "Origin Of Illness" it's an acoustic run through Cyndi Lauper's "Girls Just Wanna Have Fun" that really stands out as the highlight of tonight's set.
By the time The Cardinals hit the stage everyone is intoxicated, or maybe we're that far gone that we're presuming everyone's as out of it as we are. Behind the scene's it been a tough year for the band as they negotiated their way out of a contract with their former label B-Unique, but with Warner's sniffing around them 2006 could be the year they finally release their debut single "All Talk". With a greatest hits collection already been recorded by luminaries such as Youth, Owen Morris and Ian Broudie it's hard not to imagine the likes of "Calling For Arms" and "Don't Talk To Us" becoming future Manc anthems. Seven's started wearing make-up and has his ever expanding mop of hair, Rez looks like some pimp of MJ's "Smooth Criminal" video and Joe's playing up to Mad Manc image of heir to Mani. Ending on a cover of The Cult's "She Sells Sanctuary", a song which could almost be a Cardinals song, they leave the stage victorious.
Words: Alex McCann
Photos: Shirlaine Forrest www.shirlainephotos.co.uk
*****************
Click here to leave your comments on the Message Board
(NB: The message board opens in a new window so please disable your pop-up blocker to view)
*****************
OUTSIDER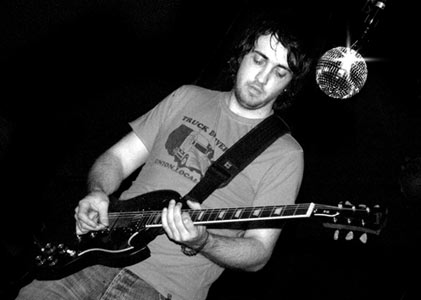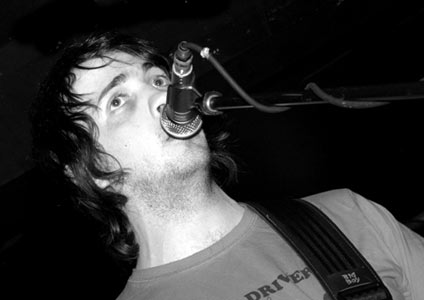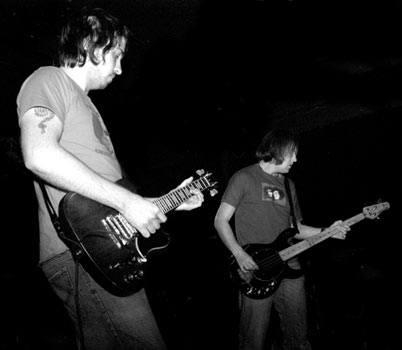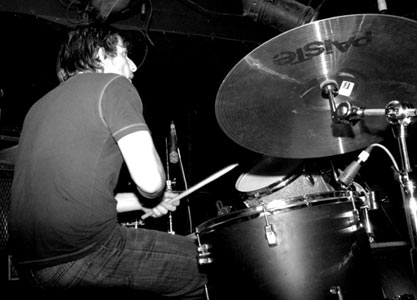 PIONEERS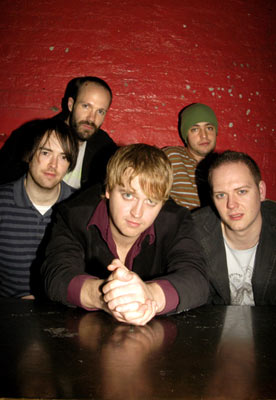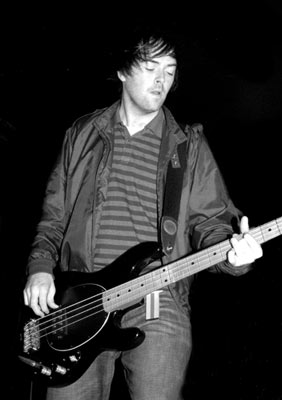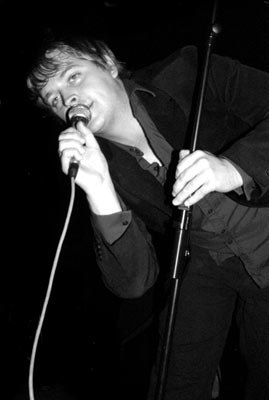 KILL THE YOUNG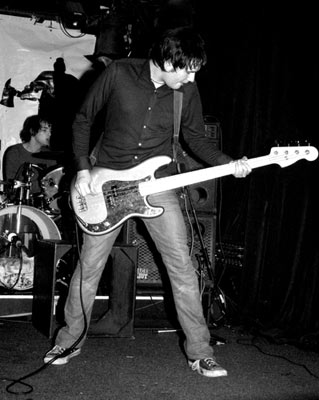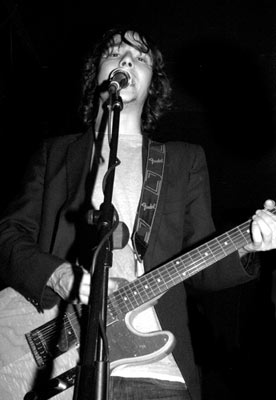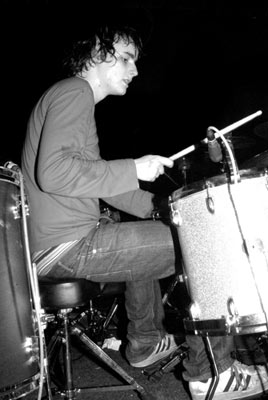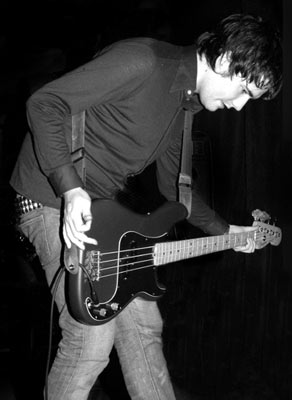 THE CARDINALS