HappyF**kingBirthday / The Cinematics - Manchester Night & Day - 12.2.06
With a background including sonic nioseniks the Tsuji Girl (Martin, vocals & guitar), the raucous Lo-Fi Radio (Jude, bass) & the brattish PTA (Ben, drums), the HFB incarnation was never going to be a quiet, sombre introspective affair. And it isnít. The set list is titled ďAss Poppin setĒ as a lot of the time it provides a swift kick to the indie fans arses. Comfortable it isnít. The fifth outing of the 3 piece is enjoyably uncompromising, as Ben lays down the insistent drum beats that sets up Martin to drawl his malevelous vocals over Judeís swaggering bass line.
Melody is absent, but passion and intensity are hereby the bucket load. When you think you have measured the beat, it abruptly changes mid song just to make sure you donít get too complacent
Donít be fooled by first impressions though. With a moniker like HFB, you might expect sneering disdain for their fellow (wo &) men, but this lot have a caring centre for their community. After all, they do ask ďWhereís the F**king Library gone?Ē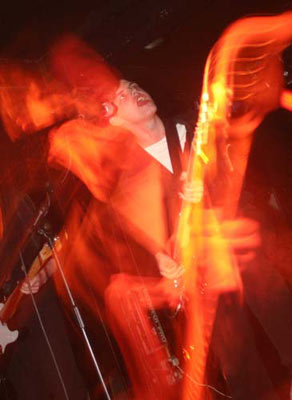 We are informed that the last time the Cinematics played Manchester; it was with the Editors at the Academy .so presumably it was to a large, standing occasionally moving crowd, only tonight itís a more of a sedate, sit down affair with a space between the stage and the audience. That might be one reason as to why they play a shortened set, but thereís no doubting their on stage commitment. Indeed, a good 5 minutes before stage time, they donít have to be dragged from their JDís & coke and harem of groupies, but are stood eagerly by the side of the stage waiting go on and perform.
When guitar in hand, they produce a big, full sound that envelops the venue in a manner reminiscent of a Waterboys/Simple Minds approach Ė not so much the style but in the way that there seems to be so much going on musically, from the chiming guitars to the effects pedal being wound up, to angst vocals being delivered.
Scott Rinning delivers the broad-brush lyrics to songs such as Human (ďBreaking my back/with the weight of your heartĒ) or ďItís all so beautiful tonight/Itís all so beautiful insideĒ with all the dramatic gusto he can summon, whilst the band mesh together in producing a sound that is a intense and windswept as the landscapes they grew up in
Ged Camera - www.camera1.free-online.co.uk
*****************
Click here to leave your Happy F**king Birthday / Cinematics comments on the Message Board
(NB: The message board opens in a new window so please disable your pop-up blocker to view)
*****************