EXORSISTERS
You wouldn't know it to look at any mainstream rock publication, but there is a world that exists outside emo and punk pop. The Exorsisters have faced the wrath of OAP's, chav's and emo fashionistas as they've set on a path of rock'n'roll destruction that's taken them from their hometown of Blackburn around the provinces of the Northwest. In their brief carnage laden career they've attracted fans in the likes of The Buzzcocks, Captain Sensible, Acey Slade (The Murderdolls) and Gidget Gein (The Spooky Kids / Marilyn Manson) and won over a legion of backstage bitches. Designer Magazine caught up with The Exorsisters (Kurt Krueger - vocals, Austin Clarke - Bass, Angus Fearfull - Guitar, Chris Kinder - Drums) for rock n roll mayhem!!!
Q: Exorsisters started against the punk pop posers. Was it the rise of sh*te punk pop bands that made you start a band or had you been playing in bands previously?
Chris : "I've been in bands previously but the plan was always to bring back rock'n'f*ckin' roll!!"
Austin : 'Yes it was, because pop/punk sucks and I don't think there is any talent there, The Exorsisters are new and different, and we have something to say, Rock and Roll 2005!!!!"
Angus: "The Exorsisters is the first "real" band I've been in."
Kurt : "I've been playing in bands for a while, mainly playing bass. The only problem was I used to always upstage the singers at gigs by wearing crazy outfits and actively moving around the stage, so in the end they would end up sacking me or "persuading me" to leave by asking me to learn Greenday / Korn back catalogue, so in the end I thought "f*ck it" I don't care if I'm the singer or not, but I can be more entertaining than these pricks!!"

Q: I see from the letters page of the local paper you've been upsetting the locals of Blackburn. What are these distasteful antics a sleazy rock n roll band get up to?
Angus : 'Well, all that nonsense was really blow out of all proportion, they were saying that we promote satanism and take drugs on stage, but we don't do anything like that, we just SMASH EVERYTHING!!! Distasteful antics that rock and roll bands get up to? err......... heavy drinking, and chasing the opposite sex."
Kurt : "Ha ha, that was pretty funny, we are quite random when it comes to the stage show, even though we get called theatrical, it's rare anything we do is planned, it just happens, e.g. we were on stage at some place and there were two people sat at the back on their own with a candle on the table I jumped on their table grabbed the candle and dripped the wax all over myself, hurt like hell but it got a good reaction from them !! Also I like to climb up things, the higher the better !! The only pre-planned gig we did was when we had a sex doll on stage with us for the song "Kill Barbie" we don't use that anymore though 'cause Austin keeps f*cking it !!"
Austin : "I do not!!!! well perhaps............"
Chris : "Anything and everything, what we want when we want"

Q: Apart from old dears, what are the people of Blackburn like - Chavs with ASBO's?
Austin : "People from Blackburn are either punkers or emo's, we stand out from all of 'em"
Angus : "Many and many of chav scumbags, and a lot of disgruntled old people"
Kurt : "Yeah, plenty Chavboys, lots of smelly "Nu- metal" birds and loads of Top Shop punks, and then there's us!!!!!!!!!!!!!"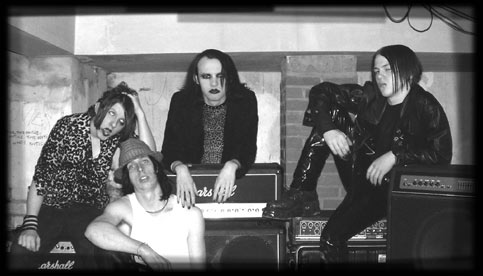 Q: The nearest modern day equivalent to Exorsisters are the Murderdolls. How would you describe your sound to people who haven't heard it?
Angus : "The most glamorous Glam punk, Rock 'n' Roll band of today, music to drink, party and to destroy everything to !!!!"
Austin : " Old Motley Crue mixed with T-Rex, with a bit of Stooges thrown in for good measure"
Kurt: " I wouldn't say we have that much in common with the Murderdolls, but they're a great live band and we've played with Acey Slade and his band, Trash Light Vision a few times, they're all great guys. The main difference is that they do the whole horror rock thing but our music is more like dirty rock n roll, like the Stooges Velvet Underground or N.Y Dolls. We look like a bunch of tramps getting dressed up to go to a Bowie concert."
Chris : "Raw adrenaline fuel Glam !! "

Q: Image is important to you. Would you say all the best bands have placed as much important on image as the songs? What is Exorsisters style?
Austin : "All the bands that I like have a good image, this adds to the show and the entertainment that a lot of new bands lack, we want to bring it back !!"
Chris : "100% image 100% song!"
Angus : "The greatest bands ever all had a great image like Motley Crue and Alice Cooper etc. and their stage shows were amazing. A lot of people forget that music is about entertainment, and if you go and watch a band you want to be entertained."
Kurt : "It definitely helps to give the audience something visual live. I was once in a bland pub rock band playing bass and everyone was stood with their backs to the stage talking and drinking lager, i always swore that would never happen to us and it hasn't :) even if you hate us you cant turn your back on us. ambience ain't my thing!"

Q: You've attracted a lot of old school fans - Captain Sensible and The Buzzcocks. How important is it that legends give you props as well as the kids?
Austin : "I think it's great, it helps boost our esteem as a band, and if they like us others will take an interest, so we must be doing something right :-)"
Kurt : "That was awesome, i used to sit and watch Captain Sensible on t.v when i was a kid. Its just so encouraging because these are people who know what they are talking about. We're pretty lucky that way. At the end of the day though its also important that you get kids who like you, I love it when I meet someone who's really in to our music. I cant understand bands who shut off their fans. Becoming a friend of Gidget Gein was the coolest for me, he used to be the bassist in Marilyn Manson and the spooky kids but now he's Like a Modern Art Genius you should check out his stuff www.gidgetgein.com
Chris : "It totally rocks, whether it's 16 year old kids, or old school punks it's all awesome"
Angus : "We like doing the stuff that we do, it's great that such people as Capt. Sensible of the Damned and Tony Barber of Buzzcocks rate us, these are people who have been there and done it, so it does mean a lot to us, equally the fact that "the kids" are into us makes us feel that we must be pretty good at what we do "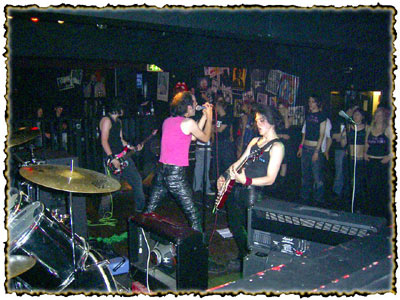 Q: Tell us about the songs Mannikin, Backstage Bitches, Kill Barbie?
Kurt : "I wrote the lyrics to Mannikin about two 20 yr old girls I knew who, when I was 15 who used to always dress me up like a doll whenever I went to their house. Backstage Bitches, despite what some people think is not sexist, its about how both guys and girls act weird once they get backstage. Kill Barbie is an anti-suicide song that kinda says if you feel you can't live up to shitty role models, just stuff it and just be yourself."
Angus : "Kill Barbie is the first song I write for The Exorsisters"
Austin : "These songs are about life as we see it, purified into great rock songs!!"

Q: How do we become on your Backstage Bitches or Exorsisters groupie?
Kurt : "Have a pulse, but then again....hehe! I don't know, just be yourself and don't try to wind us up"
Angus : "To become an Exorsisters groupie you have to be female!!! that's it really"
Austin : "You come to our gigs or leave messages on our message board, plying us with copious amounts of alcohol helps as well"
Chris : "Get pissed and come and rock with us"

Q: Have you got any tours or releases planned for the near future?
Austin : "We have some new material that we are playing at our gigs at the moment, make sure you catch one of our shows, you won't be disappointed !!, Also we are looking to record an album in 2006"
Angus : "We are hoping to get back into the studio in the new year with loads of new songs that we have written and are performing live at the moment, and talks are underway for a tour next year, but we can't say to much about it at the moment, although I bet Kurt does ;-)"
Kurt : "Yeah we're supposed to be touring with Lord Bishop Rocks (n.y.c) across Europe, there will be details on our site when we get em. our next c.d is going to to have more of a "live sound" to it than the others, so keep your peepers peeled!."
Chris : "New York, good night!!!!!!!!"
**********


The Exorsisters debut EP is out now
For more info on gigs and releases
www.theexorsisters.tk
**********
*****************
Click here to leave your Exorsisters comments on the Message Board
(NB: The message board opens in a new window so please disable your pop-up blocker to view)
*****************