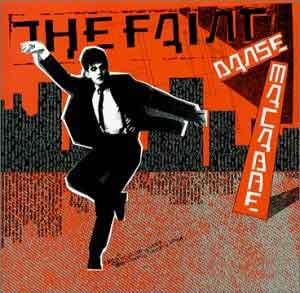 The Faint - Danse Macabre
If you need further prove that rock & roll is dead then you need look no further than The Faint. Imagine the Strokes older (and in some cases facial haired) brothers with a lust for all things electronic. Dressed in black from head to toe and an unwritten rule that they only will ever play live shows indoors. The Faint are a band who clearly realize that why should you spend so much time making dark sexual synth pop records if you just go an put some casual slacks on and play to a field of hippies.
"Danse Macabre" is actually the third album under the Faint name and still only available in the UK on import at present. Following the recent short tour of the UK the band released their debut single "Agenda Suicide" on Fierce Panda to a fanatical response so it should only be a few short months until the album sees a full release on a UK label. While its obvious that the Faint owe a certain debt to the likes of Gary Numan, Depeche Mode and Heaven 17 its more to do with the fact that they use the same old analogue synths as the electronic innovators did in the late 70s and early 80s.
While "Glass Danse", "Posed To Death" and "The Conductor" have you dancing round your living room, eye-liner to die for, like ROMO never went away a little is lost on record after witnessing the live gigs. In a a twist of fate we have to be grateful that we actually have a band who can actually raise the game on the live front. With a light show synchronized to the beats and five electronic gods strutting their stuff on stage there's ultimately something lacking when you're faced with a shiny silver disc and the drab surrounding of suburban Britain.
Alex McCann
*******************
Post your own The Faint reviews / views on our Message Board
*******************