The Ga Gas
Tommy, Toshi, Rob and J - The Ga Gas. If you'd just heard the names and hadn't seen the pictures, heard the songs or witnessed them live you'd be convinced the Ga Gas were the latest innocent product of kids breakfast TV. The truth couldn't be further removed. The band are the sleaziest rock n roll motherf**kers this country has seen in years. Their first taste for the road was on the Kelly Osbourne tour earlier in the year where pre-pubescent girls asked them to sign their tits every night and tours with Andrew WK, The Wildhearts and Skid Row proved they can rock it with the best. Designer Magazine caught up with the Ga Gas frontman Tommy to talk sex, drugs and rock n roll.
Q: The Ga Gas is really your baby. It was you that played the hand of god and Machiavellian-style put the whole band together?
A: Originally it was. We'd all played in bands before we hooked up together with this one. In the year between me being in one band and starting this one i'd just gone travelling. I really worked on the songwriting as opposed to everything else. I kind of wanted to be this crazy guitar player but I realized it wasn't happening. So I suppose it is kind of my baby, but it's all our baby now because it's become greater than the sum of its parts. When we all get together there's something there that we don't have as individuals. This is the first thing that i've done that I consider to be real.

Q: Where did you go travelling in this year out?
A: I went to Canada cos my girlfriend at the time was living out there and I had this half arsed plan that I was going to move out and form a band over there. At the time I was based in the South West of the UK and just couldn't find any musicians, so i'd gone out there and spend 3 weeks in hotel rooms just writing and writing and writing. When I went out there everything kind of fell apart pretty quick and I was really losing my mind so I just tried to make the most of it.

Q: So you came back with a renewed sense of purpose?
A: Absolutely. It definitely gave me a bit of a purpose.

Q: The thing that everyone notices when they first see the Ga Gas is that you've studied the theory of rock n roll. You realize it's as important to look right as to play well. Would you agree?
A: Totally. It's about all that stuff. There are so many bands that are too cool to actually make an effort. It's not something we get, we like invading the dressing up box. There are great looking bands. There are great sounding bands. But not so many that are doing the whole band thing, so we decided to be that band.
It was a big thing getting the right members because there weren't enough bands that look great. When you're building a band you're building a family. It's more than just a band. You're more or less living with everyone so we stand by our decision to take as long as we did to find the right people.

Q: When you did the auditions did you assume the role of Simon Cowell and have a barrage of insults at the ready?
A: It was f**king bizarre at times. Some of the people that were coming through the door really did make us want to get a revolving door and just shout "out". We had age limits in the adverts, but we still got people phoning up who were in their 40s asking if they could come down and jam. It's not really that kind of sketch.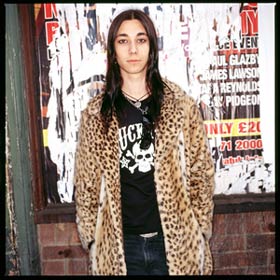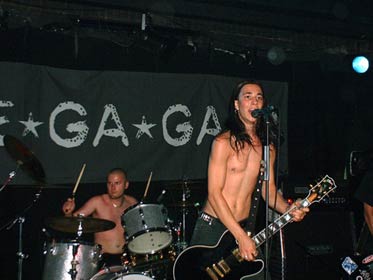 Q: So when did you realize you were a better looking woman than most of your female friends?
A: The hopeless androgyny thing. It's not really a deliberate thing, I can't really help the fact that I have those kind of features. It has been working in our favour and I totally do play up to it. They made me cut my hair when back in the days when I was at school and now I make the most of it and do the f**k what I want.

Q: It was the Kelly Osbourne tour that most people started to whisper about this band The Ga Gas. A Strange place to start off wasn't it?
A: We did about 4 shows with her and that was the first time we'd been exposed to a bigger audience which was super cool cos we didn't know what to expect. It could have been really f**ked up and bizarre but it turned out to be great because it enable us to build up a fanbase quicker than had we not done the shows. Kelly was really cool and i've seen her since, just a couple of weeks ago for an album launch which she called us up for and invited us along to.
The fans were predominantly pre-pubescent girls and we'd swagger in the room with Jack Daniels, drug problems and cigarettes. We walked out towards the end of the shows we played here in Manchester and the one at Rock City in Nottingham and we got completely seized by all of them thrusting pens and paper. Just really really young girls going can you sign my tits. It's like well I'm gonna go to jail if I do that. It was good though, they definitely like being corrupted!!!

Q: Sleaze from the start then?
A: Absolutely. When we first met we realized we were all as degenerate as each other. You put the four of us together and something goes wrong. When we did the headline tour earlier in the year I think the earliest night we must have had was 5 o'clock in the morning. It's end up with you getting so out of it you just end up apologizing to everyone and you don't know what you're apologizing for, you just know something happened. There's going to be a death before the end of one of the tours.

Q: I only found this out today. Unbelievably you're still an unsigned band. What's happening in terms of new material and 2004?
A: Were working with this great guy called Russ Russell who produced the Wildhearts new album and has produced a load of Napalm Death stuff. We've just been going in there on days off and because it's sounding so great were probably not going to have to re-record it when it comes to bringing an album out. Next year were probably going to be releasing another EP early on with an album to follow later. We're also speaking to another band who are in a similar position to us and were looking to put a package tour together to bring rock n roll to the masses.
***********
The Ga Gas second EP is expected to be releasing in January / Feb
A tour is set to be announced soon
For more info
www.thegagas.com
***********
**********
Post your Ga Gas reviews / comments on the Message Board
**********