Klaxons – Ritz Manchester 13.5.07 (Matinee Show)
Matinee performances are a unique and quintessentially British idea but with a fan base majority consisting of teens, an under 18 show is a stroke of genius on the Klaxons behalf.
Klaxons are music's equivalent to the new kid at school that no one is quite sure about but its undeniable that this 4 piece have filed a gap in the market with something that no one could have predicted, acceptable rave and a reincarnation of the 90's!
Whether you love or hate "new rave" it has swept the nation which is an accomplishment in itself. With most of the audience under the ages of 18 and sponsored by H&M cynicism is only natural. Hype surrounds the klaxons and they divide the alternative music scene with the radio 1 and NME darlings loving them and the libertines faithful fan base hating their every note. But one thing is for sure, when they adorn the stage they certainly own the crowd and any pre conceptions are blown away by a surprisingly tight and justified set. But can some neon garb and a sea of glow sticks make a good concert? Sauntering on stage the klaxons break in to their cover of "The bouncer" which went down well with the kids, who know what its like to be turned away from every club in town and subsequently the lads bash through most of their debut album "myths of he near future". Which on CD is a dull and tedious album but makes apparent that the klaxons undoubtedly need to be seen live before being recognised for their talents. Even with most songs reliant on a key board from Argos to each track has morphed into an anthem with crowd sing-a-longs that would make Robbie Williams proud. Predictably Gravity's rainbow, Atlantic to Interzone and Golden Skans are all songs that more recent fans hold dear to their hearts and with the lads sharing lead vocals they support each other through a vocally tough performance. But it's the album tracks including "Totem on the Timeline" and "Its Not Over" which gets both the kids and adults shrugging off their dignity and break into full hacienda style rave.
Even though all the members are constricted by their traditional and techno instruments they succeed in making a tea time gig feel like an all nighter which consequently pleases the kids who can tell their mates at school that they were chilling out at the Ritz yesterday.
Their was a sense that the klaxons to some extent held back their performance due to playing another show later on that day which caused the set to wilt and deteriorate at the end especially with the lack of encore.
Music has taken an unusual turn where clothes and appearance are overcastting any musical talent with The Horrors as prime example and no you wont see these lads in a waistcoat and trilby however the 80's shell suits work just as well Unusually the majority of gig goers at this concert will be leaving sober and falling in to taxis to get some French homework done but they leave safe in the knowledge that they have just attended a musically unique and superb show
Words: Hannah Clark
Photos: Shirlaine Forrest www.shirlainephotos.co.uk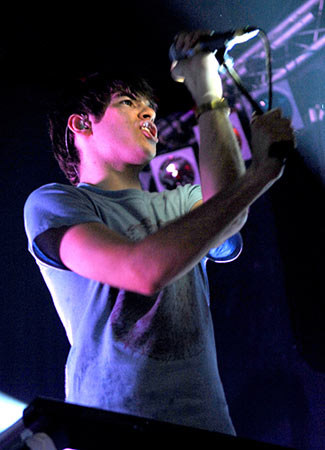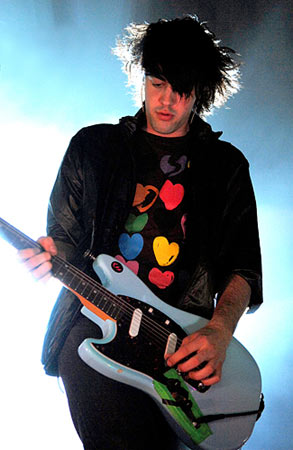 *****************
Click here to leave your comments on the Message Board
(NB: The message board opens in a new window so please disable your pop-up blocker to view)
*****************