The Mandigans / Sex Radio / The Hems / Billy Inferno / Gasmark 4 - Bar Amp Manchester - 18.4.08
Since the booming All Ages gigs in South Manchester were kickstarted by Designer Magazine just under a year ago they've revitalized the music scene with packed out crowds coming out to witness live music each month. Bands such as El Policia, Little Engine and Kid 4077 have to a certain extent broken out of the scene and are now playing by and large to over 18 audiences, while a new generation of kids have picked up guitars and with an average age of 14 or 15 are trying to give the 16 and 17 year olds a run for their money. WIth a pedigree of bands before them that have gone on to support Ian Brown (The Difference) and just the night before this Copycats who played the All Ages Gigs in Feb have gone on to open up the first date of the Skins Live Tour, the bar is set high so will tonight's bands make the grade.
Gasmark 4 take the stage for their debut gig in front of 100+ people. Its a rough and ready performance with "Lock and Load" and "Billy The Hooligan" hinting at primal Arctic Monkeys and droney Fall records and is the essence of punk mentality of play 3 chords and you can form a band.
Billy Inferno are one of the most promising bands to come out of the all ages gigs and return for their 3rd gig in a year. Lead by vocalist Tom Andrews (who also returns later to front The Mandigans) the band make a unique foray into the sort of pop rock delivered by bands like Lostprophets. At times verging close to emo but reining it in just in time before it goes too far the band have the crowd in the palm of their hands as chaos unleashes in front of them. A moshpit is in full swing at this stage and crowd surfers nearly end up knocking the band over. "Happy Holiday" is still their best song by a mile and if they can capture the energy of the live performances on record they've got a bright future ahead of them
The Hems hard work over the past year has put them in a position where they can command gigs at Academy 1 supporting bands like the Inspiral Carpets and Whiskeycats while selling out their own gigs at the smaller Academy venues. Accomplished musicians the band fall into that same original category as the Whiskeycats in that you cant pigeonhole the band easily into Topman indie band or a rock band. Instead they delve into jazz chords and lazy sunny afternoon 60s vibes on "Sam The Ice Man", Take A Ride" actually sounds not dissimilar to the Inspirals "8.15 from Manchester" and they even manage to throw in a nu-rave pisstake half way through. The music industry has spent a lot of time theorizing about the 360 turnaround while bands like the Hems are putting it into action selling out gigs, selling merchandise at the back of the venue and thinking what do we actually need a record label for when we're doing it all ourselves. Strictly original The Hems added a lot more fans today to their growing army
Sex Radio used to be called the really naff name of Republic Of Struan. Thank f*ck they changed it because this is a band that needed to be heard. Like a younger poppier version of bands like The Maple State, Sex Radio are actually the oldest band on today's bill. Oldies like "Smile" and "Old Ladies" are accomplished songs but heralding a new era for the band is the sublime "Crystal". A chilled mid-tempo ballad with quirky synths, acoustic guitar and three part harmonies. Sex Radio look like a band that could make the front cover of Kerrang, but musically they offer so much more than the usual American toss that mag covers.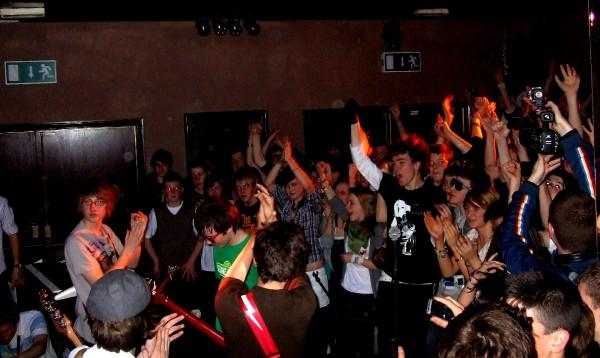 (The Mandigans -Live in action)

Once in a while a band comes a long that are truly special and the Mandigans are one of those bands. Out of the same South Manchester town as El Policia they are polar opposites. While El Pol's have that cool rock'n'roll swagger and punk rock angst, The Mandigans are out and out modern guitar pop influenced by bands like The Kooks, One Night Only and Pigeon Detectives. Each song here could easily by a massive chart hit with "In The Morning" relatively simple structure with the sort of riffs that U2's The Edge made his own with 2 notes makes a song. About 2 songs in chaos begins as the 400+ people down the front manage to tear the barrier's off the walls and the gig is halted with the air of uncertainty that could turn into one massive party or one f*ck off riot. 5 mins later the gig restarts with their original song "Girl Next Door" written by the bands original singer / frontman Dan Hoodeh. One of those annoyingly catchy songs that you try your best to ignore but will be stuck in your head as long as the Kooks "Naive" did.....and the likes of "Helicopter", "Trigger Of A Gun" and "Givin Up The Hard Way" are equally as memorable.

The Mandigans are a band who tick all the boxes - catchy mature pop songs, riotous live shows, an undeniably charismatic frontman and with two brothers in the band they tap into the rock and roll mythology that has come from the Davies brothers in the Kinks right up to the Gallaghers in Oasis. Since Noel and Liam went to live in the big smoke, Manchester needs a new band to take their crown and the Mandigans could just be that band

Words: Alex McCann
Promo Pic: Ben McDowell
Live Pic: Henry Brown

*****************
Click here to leave your comments on the Message Board
(NB: The message board opens in a new window so please disable your pop-up blocker to view)
*****************