The Polyphonic Spree / Mull Historical Society + guests
Manchester Academy 1 - 30.6.03
Fresh from the celebration of nature and love that is known as Glastonbury, the Polyphonic Spree head out on what could easily be described as a mini-festival with a revolving cast of 5 support bands, the most bizarre of which includes former Sugababe Siobhan Donaghy but that's another story. Opening up tonight's show are the unclassified scouse objects the Hokum Clones, a duo who bring together a love of George Formby and Russian folk music and yet somehow seem uniquely Liverpuddlian in their outlook and even use the phrase "la" with natural comedy timing. Last time we saw them they were supporting the Coral at the Academy 2 and while now they're charming rather than an irritant it's hard to see them ever reaching anything but a small cult audience.
Hope Of The States are the sort of band you can admire, but never love. There's just something a little too cold and distant about their blend of Radiohead meets the Pogues. Songs such as "George Washington", Never Matter" and the first single "Black Dollar Bills" are the sort of songs you analyse, dissect and then piece together to get a better of understanding of and while the violins add a certain human emotion in the post apocalyptic breakdown you can never attach yourself to the music for fear that one day they will just walk away. You don't want to give your life for a band who could just f**k off after one album and leave a void that can never be filled. The Hope Of The States are a band who will demand your life - it really is a clear cut case of ultimate devotion.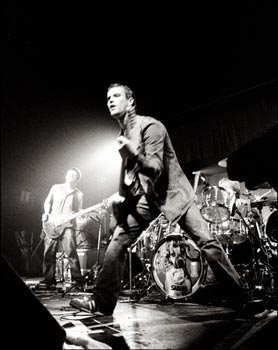 All photo's by Karen McBride - www.karenmcbride.com
The Mull Historical Society are band who clearly demonstrate why musicians should not take themselves too seriously. Now Colin MacIntyre has expanded MHS to a 5 piece live band, presumably to keep it real, rather than play to Dat tapes like they did on the first few tours and instead of having the sort of twisted pop that could compete with the pop kids they now play what can be described as lo-fi stadium pop. MacIntyre always had that leftfield genius of the SFA or Dawn Of The Replicants and it was what made the band special, but now it just seems like a shambles with the keyboard player not knowing his left hand from his right. On a brief 5 song set they do only as they can and deliver the singles "I Tried", "Final Arrears" and "Watching Xanadu" and yet you still sense that MacIntyre should do it alone with just a backing tape for company.
Bathed in bright lights as if our life's will flash before us and we will be beckoned to walk through the pearly gates, 25 angels appear before our eyes dressed in white robes and singing songs about the joy of living and reaching out for the sun. It's the things out of body experiences are made of and this is everyday life for the Polyphonic Spree who laugh at any notion of religious divide in their modern day all embracing cult. Tim DeLaughter (musical conductor, spiritual leader, ex-Tripping Daisy member) is here to share his vision with the world and while he doesn't exactly know what that is he's more than happy to let the energy flow and light up the faces of the masses. When you consider that essentially the Polyphonic Spree are not that far removed from a with-it priest in your local church, the only explanation is that people are still craving for the community of the religious experience without the theorizing and hypocritical bullsh*t that goes with it.
"Sun, take some time to get away. Sun, suicide is shame" are the first few words sung by the 10 piece choir on "It's The Sun" and immediately we have hope if nothing else. And as the old adage goes hope is all you need. It's a seamless journey through to "Have A Day" where we look for the answer within and so on and so on until "Hanging Around" where the ultimate in self-awareness is revealed. Lyrically parallels can be made to he optimistic crack pot philosophy found on vocal trance records and while they find their hope in ecstasy and rave culture, with the Spree there's something mind blowing about 25 people on stage sharing one common ideal and vision while still having the freedom to express their own individuality. The Polyphonic Spree is more than a band, it's a way of living and to truly understand where they're coming from you have to listen to the records and actually witness the live experience yourself. Let them show you the light!!!
Alex McCann
**********
Post your Polyphonic Spree reviews / comments on the Message Board
**********