The Rag Dolls
Proving that you don't even have to play the ITC Unsigned showcases to make a bang, the Rag Dolls have made a full scale assault on the UK pissing off everyone in their way. When the band posted a message on the ITC Message Board the barrage of criticism from the haters was overwhelming. The main reason being that the bands producer Gary Carrola made his name as musical director for Snap (remember "Rhythm Is A Dancer") before going on to develop the careers of Backstreet Boys and N'Sync. The band have been playing festivals across Europe over the summer and head to Popkomm after ITC. If you like female fronted pop punk, a 5 headed beast of Avril Lavigne and Pink, then the Rag Dolls will blow you away. The fact that these girls are pissing off the indie kids already means these girls are set for big things. Designer Magazine caught up with Nikki, Morgana, Aika, Franka and Dani in Manchester while they were rehearsing for the ITC Gig. We also caught up with the bands producer Gary Carrola to find out why he'd moved from pop to punk.
Q: Lets start back at the beginning of the Rag Dolls. It's a popular misconception perpetuated by the haters and critics that you girls were put together wholly through an audience process. Tell us the real story behind the band?
Morgana: At the beginning there were 4 girls from Italy and we were together about 5 years. When you're in Italy it's so hard to do things abroad. Last year in July we met Gary Carolla through email. He was looking for a female girl band and discovered us through the internet. After meeting up with him it was a case of he liked us and we liked him so we decided to work with him. When that happened our previous singer didn't want to continue, she was tired of it and she just didn't really want to do it, whereas we were so so up for it.
Dani: She fell in love and then she wasn't interested in the music. She didn't even want to out to Spain with us. Music is our life and it was very important for us to go outside Italy, Italy was just too small. When this happened Gary asked us to go out to America and work with this new singer Nikki.
Nikki: The only audition was for a new singer, they were just auditioning for a new singer to replace their old singer and I happened to fall into place...and here we are.

Q: So four Italians and one American. How do get round the small fact of several hundred miles between you girls?
Morgana: We're in constant contact over the internet and on the phone. We're connected cos the Nikki blood is Italian too.
Nikki: We still write together even though we're not physically together. We came together through the internet at the end of the day and you can still have that connection with people through the net. We'll send each other riffs through email and I'll send lyrics or vocals.

Q: The music scene in Italy is so much different and free spirited than it is in the UK. In Europe you can get punk bands in the Top 10 Chart, whereas in the UK it's all about pop music.
Dani: The only way to make your band work from Italy is to abroad. You either got to go to America or England. You just can't work from Italy.
Morgana: In Italy you can still only really make money with pop music. There's a lot of punk bands in Italy, as well as a lot of the bigger bands from the UK and the America. English bands get everywhere and everyone loves English and American bands, but it's still very difficult to find Italian bands outside of Italy. It's probably cos we don't have the money in the music industry over there. If you listen to an Italian band, the songs can be amazing but the quality of the recording is really bad.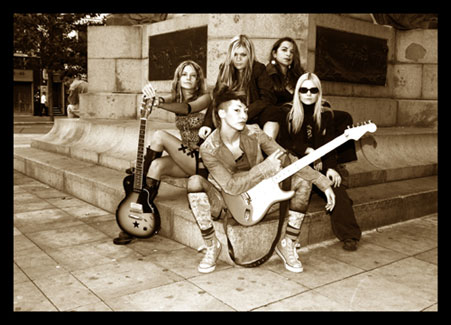 Q: When you we're growing up it was bands like L7, Hole and the riot girls you looked up to?
Morgana: It's a funny thing that when we were young, and before we all knew each other, we were all listening to the same music. Hole, L7 and then other bands like Nirvana. We're all very similar girls but one of us will be more metal or more punk or just straight up rock.
Nikki: All of us love music. We have a real passion for music. Music itself, not just punk music or pop music, but music in general.
Dani: Since when we were young we were born with this passion. We're proof that you can do it and the best thing is that we're all female and it's so beautiful because the feelings are the same. The nature to be woman is so important to us because women do a lot of things different than the men. The feelings and emotion to be girls or women on stage or in the street is very important to us. The music that you heard in the past like L7, you heard that it was a woman playing.

Q: And even though you grew up listening to bands like L7 you still wanted that pop edge to the music?
Nikki: The music comes out the way it has. Whether that's rock or pop or pop-rock we just play what we like. With the help of Gary who's very musically inclined he's been able to help us musically as far as furthering our skills and directing us. Gary's gave us an opportunity that not just anybody could offer. We're trying to make the best of this opportunity. We already have 9 Tracks recorded for the album and now we've got more time over here in Manchester we're writing too.
Dani: What we like to do is in our music - going out, having a good time - our personalities are all in the music. We speak about what we think and what we feel. We like to express the female point of view in life and we like that to come across in the music.

Q: The Rag Dolls In The City showcase has already attracted a whole heap of attention and you're off to Popkomm the week after. These must be you're first few gigs under the name the Rag Dolls?
Nikki: Yeah, the girls have played in Europe before but we haven't done any gigs yet in the States under the name the Rag Dolls. We're hoping to come out of this weekend with a bang. We don't care about the competition that's playing this weekend. We're just gonna go out there play and have fun and if people don't like it so what. People are always gonna talk no matter what you do, you could be the best band in the world, you could be U2, people are still gonna talk badly.

Gary Carolla
Gary Carolla has worked with a host of names including Backstreet Boys, N'Sync and ickle Aaron Carter. As Designer Magazine questioned him over his move from pop to punk-pop he suggested that The Rag Dolls could overcome the haters and become this years Darkness at In The City convention
Q: After working with the bands you'd worked with in the past (Backstreet Boys / N'Sync) what was it about the Rag Dolls that made you think lets do something different?
A: My root's were always in rock n roll music. I got into pop music because it was my way of getting into something positive. I like music and music has always been music to me. I play classical music and i've done all types of music in the past.

Q: From a managers point of view do you see a lot more guitar based groups around than the traditional pop that you used to see coming through
A: Yeah, and I see a lot hip hop coming through as well. I see in Manchester that there are a lot of hip hop gigs coming through here and it probably wasn't like that before. Hip hop has been taking some big strides, but rock n roll will always be around.
To me I think a lot of bands are about timing. I mean look at the New Kids On The Block and how long it took for another boy band to show up. I think it's timing. Sometimes you have to do something different that the world is not used to seeing. It's one of the reasons why the Rag Dolls are so good. The Rag Dolls are something different, they're not the norm.

Q: Just looking at the relationship between you and the girls. A lot of haters would say that The Rag Dolls are another manufactured band with you in total control. Looking at it today I'd go as far as to suggest it's the other way round?
A: We knew from your article that a few people said some things on the In The City message board. But you know, like what the Nikki said "people are gonna talk bad and people are gonna talk good". The thing is if they were successful and they had a hit record on the radio people would be talking great about them - they'd be the Darkness or whoever. To us it's all about doing what you love. We just love music. It's been in my life all the time. I just want to do something positive, i'm not out dealing drugs and i'm not out doing drugs and working on crazy things I'm not supposed to be. I love music and I like to share it.

Q: How does working with the Rag Dolls compare to working with the other artists you've worked with?
A: Well the good thing about them is four of them have been together so long. I didn't want to go picking each member because you never know how two of them are going to react together. With a lot of groups you get you put them together and they don't know how to react with each other and they fight. The good thing about them is they've all been through the ringer and they get along.

Q: Who else are you working with at the moment apart from the girls?
A: There's some other groups in the States and I've done some Disney soundtracks, all kind of crazy stuff. The industry has been taking a change with all the mergers so it's kind of chilled out at the moment. I've basically been working with the Rag Dolls and having a great time. We've got ITC, Popkomm and America lined up. I want them to experience everywhere
Words: Alex McCann
Photo's by Karen McBride - www.karenmcbride.com
**********
The Rags Dolls play 42nd Street on Monday 20th Sept approx 10pm
For more info on the band
www.theragdolls.net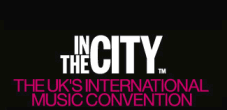 For more info on In The City and Venue Maps / Guides etc
www.inthecity.co.uk
**********
**********
Post your Rag Dolls reviews / comments on the Message Board
(NB: The message board opens in a pop up so please disable your pop up blocker to view)
**********