High Voltage presents....The Tommys / The Headlines - Music Box Manchester - 20.2.06
Looking like they've stepped out of an 80s Bratpack movie, The Headlines, suited and booted rebelliously untucked offer everything you could ever want if you were aged 17. Gloriously naive and free from the shackles that come with, dread, musical maturity, they speed through a set of two minute pop songs ("Don't You Know" and "The Get Up Sweetheart" being the best) which encompass everything from the blues riffs of the 22-20s, hints of mersey beat and on occasions some reggae tinged middle 8s. By the end of the 30 minute set they must have gone through 12 songs that will probably be thrown away on their debut album before they grow old and split in a haven of drugs and women.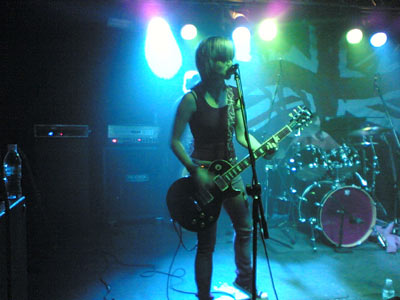 The Tommy's have been facing up to some difficult decisions over the past 12 months - mainly should they take millions from the record companies who will try and turn them into the next Faders or Love Bites or do they hold out and wait for deal which offers them total artist freedom? Thank f**k they've chosen the latter as musically they could become the UK's answer to Hole and L7 in a few years time, especially tonight where the sound system literally crashes around them and all the shiny pop edges are roughed up.
The last time the Tommy's played in Manchester it was supporting Forward Russia, a couple of days ago they played to 1000 people in Sheffield supporting Biffy Clyro and this date is just one of about 10 dates taking in the whole country as they try to convert the world to Tommy Mania. In the few months since Designer Magazine last saw them the newer songs surpass those old fan faves such as "The Day That The Whole World Turned Chav", "17" and "Queen Of The Back Seat". "Phoenix Park" sounds like a cross between late 80s Guns'n'Roses and The Manics "Little Baby Nothing" and is musically the track that will take them to national radio without the novelty-esque tones of "The Day That.....". The girls next single "You're Not The One" however will set it up for them on rock radio as it's the hardest most fiery track the girls have in their arsenal as they launch into the final chorus the amps start to get shaky and topple and just about avoid disaster. The last time we saw a speaker stack collapse it was during a drug fuelled Babyshambles gig...it says a lot that the Tommy's come on stage and simply crank the guitars up to cause such a riot.
Ending on "Fight" The Tommy's deliver yet another spellbinding rock show. It's not going to be long before The Tommy's are one of the most talked about bands in the UK
Alex McCann
*****************
Click here to leave your Tommy's comments on the Message Board
(NB: The message board opens in a new window so please disable your pop-up blocker to view)
*****************