Triple 8
"Knockout" is a statement of intent built on the sort of riff Limp Bizkit and Linkin Park would be proud to call their own. Triple 8 could just be the band to rescue us from the reality TV Pop Hell which brought us Will Young (possibly the worst pop star of the past 20 years), With a mixture of hip hop beats, rock rifferama and pure pop melodies there are undoubtedly going to comparisons with 5ive purely because Triple 8 are also managed by Chris Herbert. We caught up with Jamie Bell (the sensible member of Triple 8, but not the Billy Elliot star) to find out the bands plans for world domination and to pit them "Knockout" style Vs their pop rivals.
Q: Triple 8 - the band that have come to rescue us from pop hell?
A: Hopefully. Were music lovers and we've been to a lot of concerts and got a lot different DVD's of concerts and stuff at home. Basically we just wanna put on a show - when someone's coming to see us they're paying £30 or £40 for an Arena ticket and we want to put on the best shows possible. It's not even arenas - every time we perform our routine whether its in the dance studio rehearsing it or on the TV or the roadshows people are paying for it and you give them what they deserve, you know what I mean. When you go and see a concert the act is on one and a half / two hours, you need to be excited the whole way through that. That's what we wanna do.

Q: You're the youngest member of the band so can you remember the last great pop acts or was it all just Boyzone when you were growing up?
A: The last great pop band for me was definitely N'Sync because you've watched the DVD's so many times and every time you watch it you're noticing little things you haven't seen before. It's constantly exciting and the concept for every song is different and exciting and that's what it should be about.
We like people like Boyz 2 Men, N'Sync, Usher then some of the guys like Al Green, Marvin Gaye and old skool Motown like Stevie Wonder. But modern stuff like Justin Timberlake, we think Justin Timberlake is amazing - whether you think he's great looking, a great dancer, a great singer or a great performer everything about him is wicked.

Q: So you're not into this reality TV show karaoke cack then?
A: I think I can safely say that none of us would go for that. It's hard for the kids doing it because how can you expect 5 people to get on - they've met over four auditions and you stick them in a house for a year and a half and you've got to get on. Realistically the amount of time you spend with your band mates is unbelievable. You'll wake up with them at five in the morning, spend all day with them then you get in and go to sleep, wake up and you're with them again. There's no "your time" or private time and if you want to be the best in the business you can't have that.
The guinea pig of it all was Hear'say and how can you expect 5 totally different people to get on - just stick em in a house and say "Get on, you're supposed to like each other. Don't say this, don't say that...and sing these songs". Where are their personalities coming across in this? Were quite lucky because were five normal lads having a laugh and stuff and just enjoying the music.
Q: Josh had been in a band with Antony from Blue called Brash ("officially the crappest band ever to grace the planet" according to Jamie) and David was in a band with Kym Marsh. What is it about Triple 8 that just gels you together?
A: Were not told what to say and that lets us concentrate on the music. Basically we spent the whole of last year just doing the album to make sure it's write. We recorded 45 songs with the idea of cutting it down to a 14 or 15 track album because we just wanted the best songs possible.
Were always gonna get compared to Five because of one big reason is that our manager is the same manager. As soon as we were with Chris there was always going to be the comparison whether you're nothing like them. I think they're alike in the fact they were just five normal lads with a bit of attitude and all had different opinions and they could give it all. I think that's what pops been lacking in the last couple of years. It's all a big show and they're not portraying themselves anymore, it's all a big character, and I don't think it should be like that.

Q: Before you go you've gotta tell us about Triple 8s first single "Knockout"?
A: Basically "Knockout" says what it does with the title. It's just basically a statement record. It was the first track we recorded and as soon as we heard it made us turn our heads and say what the hell is this - that's what we want people to do. I think that's what it does.
We've got more radio friendly tracks on the album and the next single is much more radio friendly, but the first single we wanted a statement record that would turn people's heads.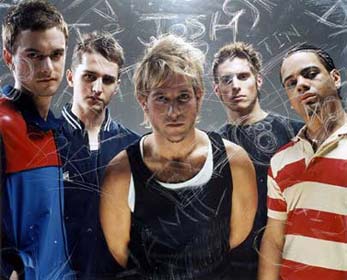 TRIPLE 8 WANNA START A FIGHT

Ok, we know that "Knockout" isn't really about starting a fight, but we thought it would be interesting to pit the bad boys of pop against four progressively tougher contestants and see how they'd fare.

D-SIDE
It wouldn't be right to back them, so i'd back us. But saying that they're really nice lads and we wouldn't try and have a fight with them anymore. I think there is definitely room for both us in the market because they're doing the more Westlife sort of stuff and were doing the more 5ive sort of stuff. I remember when 5ive and Westlife were around in the charts and the same time and there was definitely room for both of them.

Conclusion: Triple 8 can slay the average boy band member

BUSTED
I know Matt really well because I used to go to school with him. Busted are wicked lads so we'll take that as a draw.

Conclusion: Never fight with you're pop pals and always remember that a guitar round the back of head is going to hurt a lot of more than your fist

THE GALLAGHER BROTHERS
I think they run their mouths off a little too much. You can have an opinion, but with them it's always too much of an opinion. If you've got to say something, you've got to back it up and I don't think they do that. And plus the only time they get in the papers now is when they mouth off or throw glasses outside a club.

Conclusion: Most rock bands are all mouth and no trousers so watch them hide from the likes of Triple 8

SO SOLID CREW
I ain't even gonna go there because I've heard they've got guns. We actually played them in a Charity basketball match in Birmingham and they're good basketball players man. Were rubbish and they battered us, but then again so did Westlife and so did D-Side.

Conclusion: 30 members with weapons was always going to be difficult. I suggest they warm up with a Blazin Squad ruck

*********
"Knockout" is out now on Polydor
Watch out for Triple 8 on the Summer Roadshows
For more info
www.triple8world.com
*********

**********
Post your Triple 8 reviews / comments on the Message Board
**********