Wednesday 13 - Academy 2 - 11.4.05
Everything about Wednesday 13's show screams out with the mock horror of Chucky rather than any threat to the Daily Mail's moral majority. The fact that he's called his debut solo tour proper the April Ghouls Tour only goes to show that Wednesday's tongue is placed firmly in his cheek rather than a Cradle Of Filth "Jesus Is A C*nt" style shock tactics.
In Wednesday's world every night is Halloween and for tonight the teenage cheesefest has been transformed into Transylvania 90210. If with the Murderdoll's there were stringent tests to squeeze out the cheese, then Wednesday has tied up the cheesemeister in a gothic dungeon underneath Manchester university. "197666", "I Want Bad Things To Happen To You", "Look What The Bats Dragged In" form the start of a setlist which couldn't be more Iron Maiden & AC/DC if he tried. Musically it all blurs into one, but it's the sense of theatre that keeps us enthralled. Bit's of brain are thrown out into the audience, pumpkins are paraded around, ghouls come out to play...but the most memorable moment is when Wednesday arrives in a top hat, skeleton costume and an umbrella brandishing the word "F**k". At which point the predominantly teenage audience is led on a near five minute fist pounding chant of "F**k" during the "I Like To F**k".
Ending on new single "Living With The Zombies" the crowd enter a frenzied last mosh before buying a "Death Is Our Future" t-shirt at the merch stand. With too many rock bands letting the music speak for itself, Wednesday 13 follows in the tradition of Alice Cooper and Kiss with a exhilarating rock n roll show. And parents remember it's always the quiet ones you have to look out for. So next time your teenage boy leaves the house with his dead grans blouse, black kohl eyeliner and can hardly speak cos of his latest tongue piercing...think of Coronation Street and remember it was the quiet unassuming Katie that smashed her dads head in with a spanner.
Alex McCann
Photos: Karen McBride www.karenmcbride.com
*****************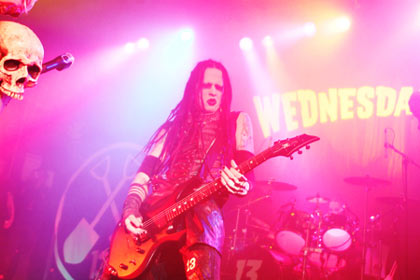 Click here to leave your Wednesday 13 comments on the Message Board
(NB: The message board opens in a new window so please disable your pop-up blocker to view)
*****************
WEDNESDAY 13
Photo Gallery