Weezer - Manchester Academy 1 - 25.08.05
There's not many bands that could command £26 for a show at the Manchester Academy, but maybe River Cuomo is pushing the fans as little too much as tonight's show still has tickets left begging on the door. It's a far cry from the days when the band sold out the Manchester Apollo across the city a couple of years ago. In a move which dwarf's The Beta Band (they famously slagged off their debut album the week it was released), River's has slagged off his bandmates, his previous work and the fans themselves over the years in tirades which are endearing to some and unforgivable for others.
With 5 albums behind them River's is content to dip into albums and take his pick, delighting in the fact that whether it's an obscure track from "Pinkerton" or one of their more well known hits such as "Hashpipe" or the recent "Beverley Hills" their fans will sing along and mosh like only Weezer fans can. Tonight it's all about the music and the songs that have made up the bands career, gone is the fluorescent light show and huge W that have become of staple additions to the Weezer shows.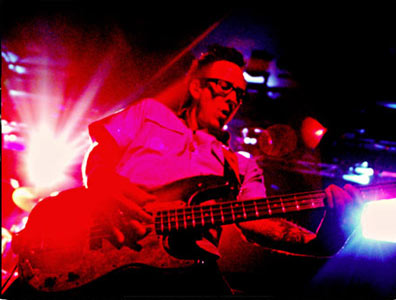 Looking more relaxed than usual Rivers disappears from the stage only to appear standing proud on the top of the bar in the centre of Academy. A few years ago this wouldn't have happened as the nerves and stage fright got the better of him, but whether it's happy pills or simply changes in his personal life he belts out an acoustic version of "Islands In The Sun" before crowd surfing his was back to the stage. Later on a member of the audience is picked out to play rhythm guitar on the band "Undone (The Sweater Song)".
Weezer came and delivered a set which pleased fans old and new, but ever obsessive debates were raging on the way out of the venue as to whether this brief tour lived up to previous memories. It's a personal thing, but Weezer still are one of America's most important musical exports
Words: Alex McCann
Photos: Karen McBride www.karenmcbride.com
*****************
Click here to leave your Weezer comments on the Message Board
(NB: The message board opens in a new window so please disable your pop-up blocker to view)
*****************