The Young Offenders Institute - Blowout - 18.3.05
The Young Offenders Institute are a bundle of contradictions wrapped up in the working class state of mind. In many ways it goes against the exclusive nature of the indie scene they find themselves thrust into. The indie scene's inherent with the elitist snobbery which it seeks to separate itself from. In the Young Offenders world it's a much more inclusive world where the only thing that matters is your straight up, honest and on the level with no ulterior motive.
Everything that Oasis said on "Definitely Maybe" has been rewritten for a new generation of disengaged youth by the Young Offenders. It's an immediate hit and buzz steeped in rock classism. The riffs are familiar, yet reverberate with a cocksure swagger and zest for life.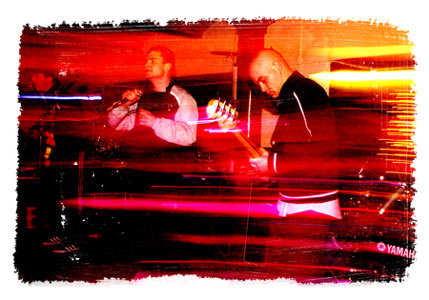 Their anthem "Young Offenders" draws from everything in their lives. Family, going on a bender, getting by whatever means possible. "Having A Party" is succinct, to the point and the most life affirming anthem we've heard in years. As the band sing "We're having a party, we're having a ball" the crowd go mad with wild abandon. "Jiggy Giro" has a similar spirit which a generation can relate to. "Baby Cocaine" with it's refrain of "life is not a game" shows a more reflective side to the 5 piece from Collyhurst.
The Young Offenders are a band that Manchester and the UK have been crying out for for years. A true working class rebellion which doesn't come neatly packaged with the PR hyperbole of guerilla gigs or txt line direct to the singer. Bring it on
Words: Alex McCann
Photos: Karen McBride www.karenmcbride.com
*****************
Click here to leave your Young Offenders comments on the Message Board
(NB: The message board opens in a new window so please disable your pop-up blocker to view)
*****************