Avid Merrion - Bo Selecta
For the second year in a row Bo Selecta has come top in the Best TV Category in the Designer Magazine End Of Year Review. In just the past 12 months Avid Merrion has gone from Cult Figure to a national institution and cries of "Shamone Muthaf*cker" can be heard in every playground and on every bus in the land. We caught up with Avid to discuss pulling techniques, the Michael Jackson scandal, Prince Charles and the return of Spitting Image.
Q: First of all Avid congratulations are in order. For the second year running Bo Selecta has taken the title of Best TV Show Of 2003. You were surprised last year. How does it feel to be so loved?
A: I still can't believe it, thank you please. Only thing now is I don't never have any time to do a shit. All I used to do was follow and collect, now people say to me can you do Bo'selecta! now that you are a celab yourself? Of course, because now I can get closer to them. It's great.

Q: Proper Crimbo - the ultimate Xmas celeb fest with the Chris Moyles, Holly Valance and the Sneddon. Apart from Kylie which you'd love to unwrap every day, which celeb of 2003 would you like in your Stockings?
A: That's quite hard, but to tell the truth I've always been fascinated by Patsy Kensit. Ever since I started to get hairs in my pants, you know when she did 'Absolute Beginners'. Well hopefully I shall meet her soon. She is booked to do the Bo'selecta! Christmas Special, by the time this goes out it will of happened or not. Sometimes people pull out at the last minute. I hope she don't.

Q: In the Designer Magazine Best of 2003 Issue our sexiest female and male are Alesha Dixon from Misteeq and Johnny Depp. As we haven't got a hip hop style or dress as pirate ladies we don't know how to pull them. What would you suggest?
A: I haven't a clue? I haven't pulled anybody ever. But celabs always like a nice gift - something useful that they can use like a flask, hot water bottle or some tampons. This way the can use your gift instead of just throwing it in the bin. I don't know. For me it's good enough just to chat with them. Your mind is a very powerful thing. In there you can do a sex with anyone and this way you don't get slapped in the face or bitten up by security.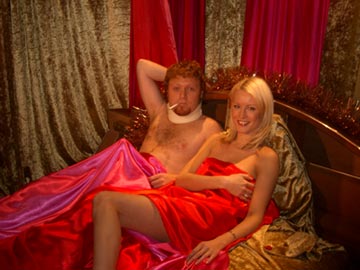 Q: On your celebrity scale, the naffest being the best and the real celebrities being towards the bottom of the scale. Who was on the radar for 2002 that has slipped off in 2003? Who is your favourite new celebrity of the year?
A: Tina O'Brian from Coronation street. She's so cute and even though she plays a 16 year old she's actually 21 so it don't make me a dirty bad boy.

Q: Dilema time - the S Club 8 (formerly the Juniors) have accepted the invite for the Bo Selecta Xmas Party & suddenly the Bad Invisible Mo Fo Jackson wants to come as well. What do you do?
A: It's OK because the Mad Mo Fo that is the Bo'selecta! MJ is nothing like the real Michael Jackson but nobody knows if he's done anything wrong yet. So both Michael and Sclub could come, anyway if I'm there I'm the one that they should be looking out for, both Michael and Sclub. You know I'd love to meet Michael Jackson.

Q: Last year the Lisa Tarbuck broke your neck. Who would win a bout of naked wrestling between her and Cheryl Tweedy of Girls Aloud? What special moves do you think each lady would use to their advantage - just picture the match now Avid?
A: I think Lise Tarbuck would kick the crap out of Tweedy. Tarbuck is a well fed woman with weight behind her. She probably can fire mind bullets out of her eyes

Q: Earlier this year Prince Charles was involved in an alledged suckie suckie with a Royal Servant. If you were a Royal Servant what would be your perfect Royal Sex Fantasy - take any combination dead Royal members and alive ones?
A: I'm not really into the Royal family. They don't do nothing for me. to me Liberty X are more like Royalty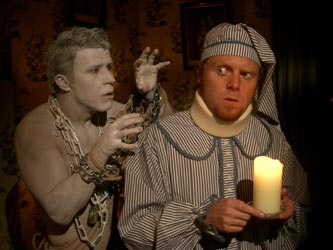 Q: Alex Parks, the famous lesbian popstar. I'm sure you spend hours thinking of the endless possibilities of the spiky haired clown. Which celebrities sweet fanjita would you love to see the Alex Parks dive into?
A: Her own

Q: 2004 sees the return of Spitting Image. In the battle of the masks and puppets who will reign supreme?
A: I don't know, maybe it could be the end for Bo'selecta! Spitting Image was here long before me and it was on the perfect! Maybe I should hang up my masks and do something different. Like become a news reader. But before that day comes there is a lot more mothaf*ckin Cha'mones, Proper Bo's and sex wee to came from Bo'Selecta 3!
Sorry my answers are so short I'm busy at the moment filming a scene for the Christmas special with Ozzy from downstairs. He can't get remember his lines. I don't know what he is, I don't know what he is.
***********
"Ho Ho Selecta" is on Channel 4 on Tuesday 23rd December 2003
Bo Selecta Series 2 / Bo Selecta Boxset are available on DVD in all good stores
For more info
C4's Avid Merrion Micro-Site
Read last years indepth interview with Avid Merrion by clicking here
***********
**********
Post your Avid Merrion and Bo Selecta comments on the Message Board
**********

---
Designer Magazine covers the best of music and entertainment . As well as featuring the hottest names in rock, pop and dance music in our full site. Our Entertainment Weekly column covers the arts and features interviews with cast members of THE OFFICE, LEAGUE OF GENTLEMEN and PHOENIX NIGHTS as well as other stars of TV and the arts
Check out the full DESIGNER MAGAZINE site by clicking here
---